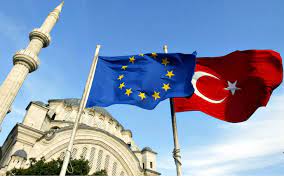 Brussels: A senior European Union official said that the bloc would discuss the issue of visa liberalization for Türkiye in the upcoming autumn. The official's remarks came amid the expected process in Ankara-EU talks for accession.
Last month, President Recep Tayyip Erdoğan announced ahead of a NATO summit that they anticipated the EU would resume accession talks after Ankara paved the way for Sweden's NATO membership.
An EU official, who declined to be named, said that the outcome of the debate on the issue was uncertain, but Türkiye remained a candidate, a "key country" with joint interests with the EU in many fields.
Ankara has been calling to re-energize the accession process, update the EU-Türkiye Customs Union, regular high-level dialogues, visa liberalization and counterterrorism efforts.
Last month, Erdoğan said they expected positive steps from the EU on visa liberalization and the Customs Union, following the NATO summit in Vilnius, Lithuania. Saying that Presidential Advisor Akif Çağatay Kılıç was in Brussels for talks, Erdoğan on his return from Vilnius told journalists: "He will discuss both the Customs Union issue and visa liberalization issues. I believe that these will be in favor of Türkiye. (European Commission President) Ursula von der Leyen also told us some positive things about it today. I think my advisor, Çağatay, will return with positive developments."
Erdoğan underlined that Türkiye fulfilled its promises vis-a-vis the bloc, adding: "We want to see the tangible results of the negotiations carried out on a win-win principle as soon as possible."
Türkiye has the most extended history with the union and the most prolonged negotiation process. The country signed an association agreement with the EU's predecessor in 1964, the European Economic Community (EEC), which is usually regarded as a first step to eventually becoming a candidate. Applying for official candidacy in 1987, Türkiye had to wait until 1999 to be granted the status of a candidate country. For the start of the negotiations, however, Türkiye had to wait for another six years, until 2005, a uniquely long process compared with other candidates.
The senior EU official told Türkiye's Ihlas News Agency (IHA) that the bloc was moving forward in the process, highlighting preparations for a report on EU-Turkish relations following May 28 elections in Türkiye and that the report would be discussed in the autumn. The official also noted that EU foreign ministers exchanged opinions on rebuilding ties between Türkiye and the bloc at a recent meeting, "rebuilding them on joint interests."