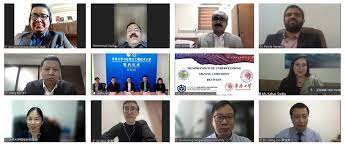 Faisalabad: Henan Agricultural University (HAU) China and University of Agriculture Faisalabad (UAF) on Tuesday afternoon inked Letter of Intent (LoI) to collaborate in the area of academic and research.
UAF Vice Chancellor Prof Essie Dr Iqrar Ahmad Khan and HAU President Prof Dr Jie Xiaolei signed the LoI on behalf of their institutions while Chairman Department of Entomology UAF Professor Dr Muhammad Jalal Arif, Director Office of Research, Innovation and Commercialization Prof. Dr Muhammad Jafar Jaskani, Director External Linkages Professor Dr Muhammad Saqib, Associate Professor Dr Abid Ali, HAU Director Office of International Exchange and Cooperation Prof Dr Ke Tu, Li Xingdao Party Secretary College of Plant Protection and Li Honglian, Dean College of Plant Protection were also present on the occasion.
Speaking on the occasion, Prof Dr Iqrar Ahmad Khan said that it was the ever-first visit of delegation from UAF to HAU China.
He said that according to agreement the both sides will exchange students, academic staff and teaching/research resources.
They will also receive visits from each other and organize international conferences jointly where as it was also agreed upon that the both universities would submit research projects jointly and they will mutually develop joint educational programs in specific academic areas.
He mentioned that China was making tremendous progress in the every field of life and the joint venture would help learn from each other experiences.