US fellowships help Pakistani youth ace unique skills, enhance leadership qualities: PUAN members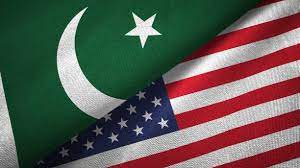 Celina Ali
Islamabad: The Pakistan-US Alumni Network (PUAN) members on Wednesday said the United States (US) funded fellowships and training programmes have benefitted Pakistani youth to ace unique skills and enhance their leadership qualities through diversified cultural interactions and engagements in the States.
Young energy expert and Fulbright scholar, Waqas Idrees told APP that he had acquired advanced qualifications from the prestigious Massachusetts Institute of Technology (MIT) through the US State Department's fully-funded Fullbright scholarship.
He was one of the only experts on the United Nations Framework Convention on Climate Change (UNFCCC) and also a sustainability and climate risk professional.
He said the major reason behind less participation of Pakistani youth in the US fellowship programmes was the lack of commitment among the youth which was a generational thing hindering them to exploit their true potential through tough and hard competitive processes.
Idrees said the Fullbright and International Visitors Leadership (IVL) programmes for students were found hard to grasp by the local students.
Referring to his own example, he said he had achieved a Fulbright scholarship in the fourth attempt whereas the PUAN provided him the opportunity to study in the US.
He informed that many PUAN alumni like him approach students in Universities to apply for Fullbright scholarships.
Waqas Idrees mentioned that he had done research on 'Boston blizzards' impacting impoverished children which was adopted and implemented in Africa to support children facing crisis which was a great accomplishment.
"I did a project on Afghan refugees to support children to earn bread and study simultaneously. It is my tenth year after successfully completing my Fulbright scholarship. I have developed an ICARE (climate advocacy and education initiative)
programme to support the impoverished children in educational institutions to learn more about climate change and action," he added.
Waqas Idrees had also worked with the United States Agency for International Development (USAID) on its energy-related projects, competitive auctions on renewables and also working with the Lahore University of Management Sciences (LUMS).
The ICARE initiative, he said was focussing on the children belonging to the middle calls who were unlike the elites not aware of climate change. It was working with private, public and charity schools supporting out-of-school children.
He suggested that there was a need to improve communication and the top-down approach to achieve youth inclusion and integration.
Sana Tahir, an environmentalist working with the National Cleaner Production Center Foundation (NCPC) also availed an opportunity in 2013 under the U.S. legislative fellowship programme. She had done her BS and MS in Environmental Sciences from the University of the Punjab.
She said that she had learned a lot about cultural issues during her U.S. experience and also acquired knowledge about Eco-Roof topping and other innovative concepts.
She visited government and power organisations in the U.S. during her fellowship. Sana Tahir appreciated the civil society and volunteer work that inspired her and moved her to replicate it back in the country.
She mentioned that the civil society in the U.S. was more empowered as compared to Pakistan and was always ready to work and have an enhanced policy footprint. For example, she said Saturdays were dedicated to volunteer work.
She encouraged women and girls to visit the U.S. and learn new technologies and techniques.
Director General World Wide Fund for Nature Pakistan (WWF-Pakistan), Hammad Naqi Khan said WWF is the largest environmental organisation globally and also in Pakistan.
He said the members of PUAN came from diverse backgrounds, areas, genders and social cohorts and it was very important to take the opportunity to sensitise and impart the gravity of the issue to them for a stronger and effective climate action.
He added that these experts should be infused with a proactive approach to climate change as the climate crisis was one of the biggest challenges and also an economic challenge for Pakistan.
"Our economy is based on water. For us, climate change is water change. Half of the water comes from glaciers and half from monsoon rains. The studies clearly say that the third largest snow reserve outside the polar region is in Pakistan and it is melting at a faster pace. In the first cycle we will have more water and then it will decline but our population is growing," the DG WWF-Pakistan said.
He said the climate disasters would accelerate in the coming years where as an individual, farmers, industrialists and others everybody had to play their roles for a climate-resilient and sustainable future.
"Climate change can't be tackled in isolation. It is imperative to engage these professionals like PUAN alumni to spread the message," he said.
He said that though PUAN had a good foundation and needed to roll out milestone targets for climate action and resilience measures. "Let's have some pragmatic and ambitious milestones through the platform of PUAN and it should monitor its implementation for result-oriented interventions," he added.