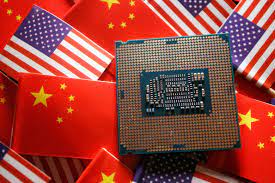 Brussels: The European Commission will analyse the U.S. ban on new U.S. investment in China in sensitive technologies as the issue is also important to the European Union's economic security, the EU executive said on Thursday.
U.S. President Joe Biden signed an executive order to prohibit or restrict U.S. investments in Chinese entities in three sectors: semiconductors and microelectronics, quantum information technologies and certain artificial intelligence systems.
The Commission, which in June presented its own economic security plan consisting of stronger controls on exports and outflows of technologies that could be put to military use by rivals like China, said it took note of the U.S. ban.
"We will be analysing the Executive Order closely. We are in close contact with the US administration and look forward to continued cooperation on this topic," a Commission spokesperson said in an email.
"We recognise the significance of the topic, which was an important element in the recent Joint Communication on economic security."
"The EU and Member States also have a common interest in preventing that our companies' capital, expertise and knowledge fuel technological advances that enhance military and intelligence capabilities of actors who may use them to undermine international peace and security," the spokesperson said.
The Commission will present an initiative on the topic by the end of the year.
A spokesperson for the German economy ministry took note of the commission's move to assess the ban and told Reuters: "We will be actively involved in this process."
Still smarting from a breakdown in its economic ties with Russia, Berlin has called for a de-risking approach to China and begun looking at measures to address risky foreign investments.