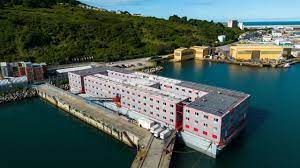 London: Asylum-seekers have been removed from a controversial barge in southern England after Legionella bacteria was discovered in the water – days after experts warned of the risk of infection.
Thirty-nine asylum-seekers disembarked the Bibby Stockholm barge, a UK Home Office spokesperson said in a statement Friday – just days after they were first housed in it.
Legionella bacteria, which is commonly found in water, and can cause Legionnaires' disease, a serious lung infection. The spokesperson said that no individuals on board the barge showed symptoms of Legionnaires' and that the asylum-seekers were being provided with appropriate advice and support.
"The samples taken relate only to the water system on the vessel itself and therefore carry no direct risk indication for the wider community of Portland nor do they relate to fresh water entering the vessel," the statement said adding that Legionnaires' does not spread from person to person.
The discovery of the bacteria comes at the end of what the UK government had billed as "Small Boats Week" – a campaign hoping to demonstrate the action it had taken to limit the number of asylum-seekers arriving in the country via small vessels across the English Channel.
The government announced in April its plans to house around 500 single adult men on the Bibby Stockholm, which was meant to serve as a deterrent to those hoping to seek asylum in the UK. The barge was originally designed to house 222 people, but was retrofitted to increase its capacity.
On Tuesday, the first asylum seekers boarded the barge in Portland, on the Dorset coast, despite public health experts warning of the possible risk of infection in living conditions that campaigners branded as inhumane.
The UK's Fire Brigades Union has also described the barge as a "death trap" and an "accident waiting to happen."
Human rights campaign groups quickly responded to the discovery of Legionella in the barge's water.
"The presence of life-threatening bacteria onboard the Bibby Stockholm is just another shocking revelation that we've seen unfold over the past few weeks. This Government's punitive policies and deliberate neglect of the asylum system is not just cruel, it's dangerous," Kolbassia Haoussou, director of survivor empowerment at Freedom from Torture, said in a statement.
The UK government has made stemming the flow of asylum-seekers to Britain a priority, as the number of migrants arriving on small boats across the English Channel last year reached around 46,000 – a record level.
On Thursday, the number of Channel crossings hit a record daily high, with 755 people making the dangerous journey.