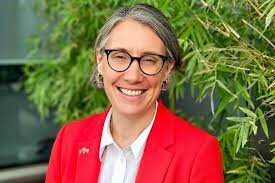 London: British High Commissioner-designate to Malaysia Ailsa Terry arrives excited about the ever-growing UK-Malaysia relationship.
In particular, she hopes to strengthen bilateral trade as the two countries are set to benefit from their first ever Free Trade Agreement, through the Comprehensive and Progressive Agreement for Trans-Pacific Partnership (CPTPP) which the UK signed up to last month.
The new British envoy will start her appointment as the British High Commissioner-designate on 10 August 2023 and succeeds Charles Hay MVO. She is expected to present her credentials to His Majesty The Yang Di-Pertuan Agong later this month.
Ms Terry said: "I am thrilled to be in Malaysia, a beautiful and diverse country with such a long standing and important relationship with the UK. This is an exciting time for both the UK and Malaysia as we build a modern partnership based around our many shared interests and I have a brilliant team to work with.
"Building on the strong connections between our people, and our shared history and values as fellow Commonwealth members, I believe there is huge potential for the UK and Malaysia to work more closely together to boost our trade, education and tech relationship, tackle the climate emergency and uphold the international rules-based system. There is also opportunities to strengthen our defence partnership including through the Five Power Defence Arrangements (FPDA).
"Malaysia is a global biodiversity hotspot and our UK-Malaysia Climate Partnership Memorandum of Understanding will enable us to work more closely together. I also look forward to working with Malaysia on important issues affecting regional security, stability and prosperity especially during the Malaysian chairmanship of ASEAN in 2025.
Before taking up the post of High Commissioner, Ms Terry was the Director of the FCDO's inaugural Sanctions Directorate from 2022 to 2023, which she established as part of the UK's response to Russia's illegal invasion of Ukraine.
Prior to that, she was the Foreign Affairs Sous-Sherpa and Director in the UK's Foreign, Commonwealth and Development Office (FCDO) for the UK's Presidency of the G7 in 2021. She also worked in the National Security Secretariat in the Cabinet Office which supports the work of the UK National Security Council.
During her time in the British diplomatic service, she has been posted to Islamabad and the UK Mission to the European Union (EU) in Brussels. Ailsa was also the Political Adviser to the EU Special Representative to Afghanistan in 2011.
Ms Terry is married to Adam Terry and they have twin sons. She read English Literature (BA Hons) at Oxford University. In her spare time Ailsa enjoys reading, cooking and spending time outdoors with her family.