Chinese delegation visit 'China Yadgar' at KKH to pay tribute to Chinese heroes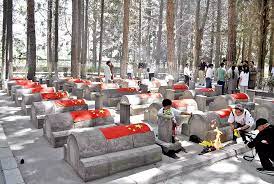 Gilgit: A 41-member Chinese delegation here visited China Yadgar to commemorate the dedication and valor of those who lost their lives during the construction of Karakorum Highway (KKH) from 1959 to 1979.
The delegation also included 15 engineers and workers who physically participated in the construction of the KKH, besides their family members.
On this occasion, they paid tributes to their loved ones and placed wrath of flowers on the graves of the deceased. Their relatives placed the national flag of China and fruits at the graves of the deceased and burned Chinese Currency, as per the Chinese tradition.
Talking to the media, they said that they were grateful to the Government of Pakistan for taking good care of the the graves of their dear ones.
The Karakorum Highway (KKH) is the precursor to the China Pakistan Economic Corridor (CPEC), which transformed the road connectivity into efficient link between Pakistan and China.
The 1300 km long KKH starts from China's Xinjiang province, after passing through Gilgit-Baltistan, ends at Hasan Abdal region of Punjab.
The KKH, also known as the Eighth Wonder of the World, was jointly constructed by Pakistani and Chinese engineers and workers. About 778 Pakistani and 110 Chinese workers lost their lives. Most of the Chinese workers were laid to rest at Gilgit Dineyour, which is locally known as 'China Qabristan and China Yadgar.
Chinese Yadgar is in Dunyour, a town along the Karakoram Highway in Gilgit district about 8 km from Gilgit city. The yadgar was built in the early 1970s. The cemetery is maintained by Chinese government's appointed custodians who provide information about the cemetery to tourists.