Caretaker PM assumes office, seeks briefing from ministries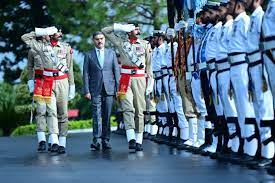 Celina Ali
Islamabad: Caretaker Prime Minister (PM) of Pakistan Anwarul Haq Kakar on Monday assumed his responsibilities after taking the oath of office.
After assuming the responsibilities, the caretaker premier sought a detailed briefing from all ministries on important matters.
Earlier, the caretaker PM was presented guard of honour in a ceremony at the Prime Minister House.
A smartly turned out contingent of Pakistan's armed forces presented the guard of honour. National anthem was also played on the occasion.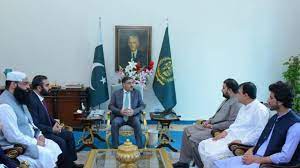 Outgoing Prime Minister Shehbaz Sharif received the new prime minister on his arrival.
The caretaker prime minister met the officers and staff of the Prime Minister House.
Prime Minister Shehbaz Sharif felicitated Anwarul Haq Kakar on becoming caretaker PM and expressed his best wishes for him.
Meanwhile, Anwarul Haq Kakar also held meetings with former provincial minister Mir Asim Kurd Gello and a delegation from Balochistan.
Senator Sarfraz Bugti and Mir Khalid Lango were part of the delegation. The delegation felicitated the prime minister on assuming office and expressed their best wishes for him.
Earlier in the day, Anwarul Haq Kakar took oath as the caretaker prime minister of Pakistan.
President Dr Arif Alvi administered the oath to the caretaker prime minister in a ceremony at the President House.
Outgoing prime minister Shehbaz Sharif, Chairman Senate Sadiq Sanjrani, Governor Punjab Balighur Rehman, Governor Sindh Kamran Tessori, Caretaker Chief Minister Punjab Mohsin Naqvi, Caretaker Chief Minister Khyber Pakhtunkhwa Azam Khan and leading politicians of various political parties also attended the ceremony.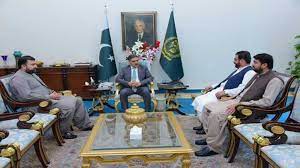 Chief of Army Staff General Asim Munir, Chairman Joint Chiefs of Staff Committee General Sahir Shamshad Mirza, and other high ranking officials were also present on the occasion.
Senator Anwar ul Haq Kakar, the nominated new caretaker prime minister of Pakistan, is a political figure from Balochistan and a member of Balochistan Awami Party (BAP).
Kakar was elected to the Senate in 2018 and has been a very active politician from Balochistan.
Simultaneously, he served as parliamentary leader for the Balochistan Awami Party — formed in 2018 — within the Senate.