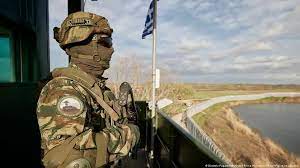 Brussels: European Border and Coast Guard Agency Frontex expects yet another rise in the number of migrants and asylum-seekers arriving in the EU.
In 2022, Frontex recorded some 330,000 so-called irregular border crossings, the highest figure since 2016, when the bloc saw a record number of arrivals.
This year, the agency has predicted that irregular border crossings could rise even higher, due in part to the fact that arrivals via the central Mediterranean route to Italy tripled in the spring.
Some EU member states and former members like the United Kingdom are therefore trying to adopt stricter laws, regulations and asylum procedures to discourage or deter people from entering their countries.
German cities and municipalities are saying that housing and integrating new arrivals presents an overwhelming task. Around a quarter of all asylum applications submitted in the EU are filed in Germany, even though it's not the country migrants reach first, due to its geographical location. Under EU law, Germany is not technically responsible for processing such applications. Germany's federal and state governments have therefore agreed to adopt stricter deportation and detention rules for migrants who are obliged to leave the country.
Interior Minister Nancy Faeser has, however, so far rejected ramping up checks along the German-Polish border to deter irregular crossings. The German-Austrian border, meanwhile, has seen spot checks for several years, as it lies at the end of the Balkan migration route.
Other countries such as France, Austria, the Netherlands and the UK are trying to deter arrivals with tougher measures. Britain, for example, has threatened to outsource asylum processing to Rwanda or hold migrants on ships.
While Denmark failed in its attempt at opening an asylum center in Rwanda, the government has nevertheless made asylum procedures more restrictive in recent years. Denmark has also maintained border checks with Germany for years. Only 180 people apply for asylum in the Nordic country every month. This is very little compared with a country like Austria, for example, which saw between 4,000 and 11,000 applications per month in 2022.
Migrants tend to first arrive in EU countries like Italy, Greece, Malta, Cyprus, Croatia and more recently Poland, owning to their geographical location. These states are trying to make it as difficult as possible for migrants to enter in the first place. Some external EU borders, such as the Greek-Turkish frontier along the Evros river, have been effectively shut. This only leaves the dangerous sea route for reaching the EU, or trying to enter the bloc by plane with a real or forged visa.
Sealing off the bloc in this way has been referred to as "protecting the EU's external borders," and is supported by EU interior ministers.
Italy is trying to make it even more complicated for private rescue ships to bring shipwrecked people to its ports. This approach, too, is supposed to deter migrants. But the Mediterranean country is still struggling to keep migrants from arriving on its shores. That's why the government wants Tunisia to prevent migrants from boarding EU-bound vessels in the first place. Italy intends to pay Tunisia for holding back migrants, and negotiations over an agreement are underway. The number of people trying to reach Italy from Tunisia increased tenfold this year.
Media and various human rights organizations have reported that Greek, Croatian and Polish border guards are resorting to pushbacks to deport newly arrived migrants. Migrants caught entering said countries are forcibly returned to the country from which they came, without due process. Yet the authorities in question have denied carrying out pushbacks, or "refoulements," as they are called, as they are prohibited under European and international law.
Hungary, whose government has said it does not accept any migration, makes no secret of its use of pushbacks. Migrants who have entered the country without documents can be deported without trial. Hungary does this on the basis of a 2015 "emergency law," though European courts have ruled this practice illegal.
The Hungarian government, however, has ignored the rulings, and regards its pushback policy as successful. Last year, just 44 people applied for asylum in Hungary. This is also due to the fact that applications must be submitted to Hungarian embassies.
According to the European Council on Refugees and Exiles, some 150,000 people have been returned from Hungary to Serbia, across the border fence, without much ado. Hungary's government has said this deterrence works. It, therefore, does not see any point in becoming party to a new EU asylum law that would set out rules for distributing migrants within the bloc, or making payments to those taking them in.
In the lead-up to Poland's parliamentary election in October, migration has been a hotly debated issue. The ruling national conservative PiS party has said it wants to prevent immigration to "protect" Poland — even though the country has seen only a small number of migrants apply for asylum. In the first half of 2023, a mere 2,785 applications were submitted, according to EU statistics agency Eurostat. This is a minuscule number in relation to Poland's population of 38 million people.
Nevertheless, Polish Prime Minister Mateusz Morawiecki has opposed EU attempts to reform the bloc's common asylum law. Poland is currently building a fence along its eastern border with Belarus, and Morawiecki wants to hold a referendum on whether the country should block migration in line with EU guidelines. In Poland, immigrants are primarily seen as a political weapon, deliberately sent to the Polish-Belarusian border by Russia.
Thorsten Frei, chairman of the center-right Christian Democrat (CDU) and Christian Social Union (CSU) parliamentary group in the German Bundestag, earlier this summer suggested scrapping the EU's guaranteed individual right to asylum in favor of an immigration quota.
Frei called the existing system unfair, saying that mainly wealthy individuals and strong young men had what it takes to overcome the dangers of migrating to the EU. He said sick or elderly people, women and children were far less likely to successfully cross the Sahara, or get aboard EU-bound vessels.
Refugee organizations have pointed out that EU policy makes it very difficult to enter member states, since asylum applications must be submitted on EU soil. That said, those who do make it into the EU can usually stay, even if their applications have been rejected. It's rare that migrants are deported back to their home country.
More than 90% of Syrian and Afghan refugees who reach the bloc can expect to be granted protection status. For many other countries of origin, such as Pakistan or Turkey, the situation is the exact opposite. Here, the rejection rate is above 75%. In most cases, however, rejections do not lead to expulsions.