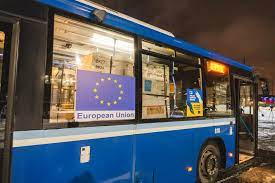 Brussels: The European Union has, so far, sent 214 buses to Ukraine to safely transport Ukrainian children to schools.
Donations in the form of buses were made by eleven EU member states: France, Estonia, Spain, Sweden, Finland, Germany, Poland, Slovenia, Luxembourg, Austria, and the Czech Republic.
"We are also donating €14 million to the procurement of school buses – 65 buses are on the way, with more to come," says a press release by the European Commission's Directorate-General for EU Neighbourhood and Enlargement. "Safe access to education will give Ukrainian children a better future, develop their full potential and restore a sense of normality and safety."
In November 2022, the EU launched a solidarity campaign to bring more buses to Ukraine.
The European Commission called on public and private entities in the EU and beyond to join forces and show solidarity by donating buses that are essential to bringing Ukrainian children safely back to their schools.
Potential donors can still do that through the EU Civil Protection Mechanism (UCPM), which has been critical in channelling urgent support to Ukraine, including food, shelter, hospital equipment, ambulances, fire trucks, and much more.