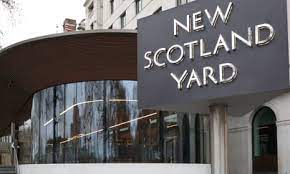 London: Five people were arrested in the UK on suspicion of breaching the Official Secrets Act, police said on Tuesday, with reports they were detained for allegedly spying for Russia.
The three individuals are Bulgarian nationals, who were alleged to be working for Russian security services, the BBC said in its report, saying they had been held as part of a major national security investigation.
London's Metropolitan Police said four people — two men aged 31 and 42, and two women aged 29 and 32 — were detained in the British capital on February 8 this year. The fifth — a 45-year-old man — was held at an address on the Norfolk coast in eastern England.
None of the five was charged under the Official Secrets Act, but three of them — Orlin Roussev, 45, from Great Yarmouth in Norfolk; Biser Dzambazov, 42, from Harrow, northwest London; and Katrin Ivonova, 32, also of Harrow — were charged with identity fraud. Police confirmed three charged were Bulgarian nationals.
"All five individuals were later released on police bail and are due to return in September 2023," report said. The three charged appeared in court in central London on February 13 each charged with "possession of false identity documents with improper intention", a police statement read.
The documents include passports, identity cards and other documents for the UK, Bulgaria, France, Italy, Spain, Croatia, Slovenia, Greece, and the Czech Republic, BBC reported.
The trio made another court appearance on July 31, and were remanded in custody until a date to be fixed, it added.
The trio have lived in the UK for years, working in a variety of jobs, and living in a series of suburban properties, BBC said.
Britain has been sharpening its focus on external security threats and last month it passed a new national security law, aiming to deter espionage and foreign interference with updated tools and criminal provisions. The government labelled Russia "the most acute threat" to its security when the law was passed.
Police have charged three Russians, who they say are GRU military intelligence officers, with the 2018 attempt to murder former double agent Sergei Skripal with the military-grade nerve agent Novichok. Two were charged in 2018 and the third in 2021.
Last year, Britain's domestic spy chief said more than 400 suspected Russian spies had been expelled from Europe.
Britain has also been one of the strongest supporters of Ukraine since the Russian invasion last year and has imposed a range of sanctions on Russian officials and oligarchs.