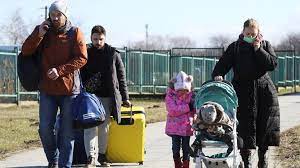 London: Over 1,000 vulnerable refugees fleeing regions of conflict and instability, including Syria, Iraq, Sudan, Eritrea, Iran, Somalia and Afghanistan, have been welcomed under one of the UK's safe and legal routes by local communities across the UK, so they can start their new lives here.
The government has some of the most generous safe and legal routes anywhere, and since 2015 the government has offered a range of safe and legal routes to the UK to over half a million men, women and children seeking safety, as well as family members of refugees. This includes the community sponsorship scheme which allows members of the public to support the most vulnerable refugees who have been assessed as in need of resettlement here.
The UK is 1 of 10 countries operating a community sponsorship scheme through which the UNHCR refers vulnerable refugees. Thanks to the public's generosity and good will, refugees have so far been supported with housing and integration support by over 200 community groups, including charities, faith groups, sports clubs, schools and universities.
The UK has a long history of supporting refugees in need of protection and members of the public are upholding this tradition by coming together and partnering with a charity or community interest group to welcome a refugee family to their local area.
To become sponsors, communities will need to commit to providing integration support to a refugee family for their first year in the UK, including learning English, and accessing education, benefits, healthcare and employment so they can become self-sufficient and contribute to the community. Sponsors will also need to identify and secure suitable accommodation for at least 2 years.
Those interested in setting up a community group to support a refugee family can find out more information.
Immigration Minister Robert Jenrick said: "The UK is one of the few countries with a community sponsorship scheme that allows communities themselves to help settle individuals and families directly at risk in conflict zones around the world.
"Community sponsorship reduces the burden on the state, offers the best prospect of integration and bypasses the smuggling gangs to focus our finite resources on the most vulnerable.
"Today's announcement shows the power of society and generosity of communities in the UK to help those in need who come here legally.
Abdulrahman Zakaria, who was resettled in Warwick with his family last year under the community sponsorship scheme, said: "This scheme has gifted my family and me the dignified life we've dreamt of for so long. Owing to the love and support that they group has given me; I've found success in my profession and launched my own business. Today, we genuinely feel an integral part of the community here in Warwickshire. We've received the finest care and backing, and mere words of gratitude hardly do justice to how thankful I am.
"Set up in 2016, community sponsorship was the first scheme in the UK to enable the public to come together and support refugees directly, so they feel welcome and can readjust to a new life here."
Before welcoming a refugee family, community groups will need to apply to the Home Office for approval, demonstrating their ability to support and safeguard vulnerable people. Groups will receive training and support from the government's partner, Reset, so they have the tools to prepare to welcome refugees and to help them settled and integrate once they have arrived.
Community groups are asked to raise £9,000 to support families with their resettlement and integration needs, therefore helping to keep costs down for UK taxpayers.
Eligible refugees are referred by the UNHCR, which assesses their need for resettlement in the UK, through the government's established resettlement schemes, including the UK Resettlement Scheme (UKRS) and the Afghan Citizens Resettlement Scheme (ACRS). Refugees are then matched with a sponsor group based on the support they can provide.
Julia Fitzsimons from Warwickshire Circle of Friends who have been supporting Abdulrahman and his family, said:
"We thought this [community sponsorship] would be a great opportunity to help, and welcome a family into our town. When we first started it seemed like a huge challenge but I was amazed by how many really enthusiastic people came forward to help, with different backgrounds and expertise. We did not all know one another to begin with, but as a team we had so much to offer. Those of us who came together to create the group also found that it strengthened our own communities – building new friendships and networks. We'd all love to see more communities benefit from this amazing scheme.
"It has been fantastic to be involved with community sponsorship and we have all found it very rewarding. Watching Abdulrahman and his family settle in has been a joy."
Emma Harrison, Director of Strategy at Reset, said:"Community sponsorship is a transformative scheme which allows communities to welcome refugees – and in doing so develops and strengthens community networks. Reset are proud to have played a key role in building capacity among the groups up and down the country that have welcomed families to their areas. We are looking forward to supporting many more groups, welcoming even more families this way and hitting the next big milestone!"