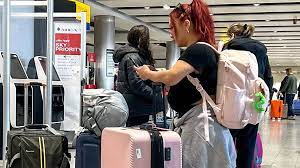 London: UK inflation eased to a 17-month low in July, official data showed Wednesday, though it also revealed that prices of services, such as haircuts, hotels and restaurants, increased at a faster pace than the previous month.
Consumer prices rose 6.8% in July compared with a year ago, the Office for National Statistics said. That is the smallest annual rise since February 2022 and reflects falls in the price of gas and electricity after an energy price cap, set by the energy regulator, was lowered at the end of June.
"Although remaining high, food price inflation has also eased again, particularly for milk, bread and cereal," said ONS deputy director of prices Matthew Corder.
Food price inflation slowed to 14.9% in July, from 17.4% in June, with prices still rising strongly but less than in June.
In less good news, services inflation accelerated last month to 7.4%, from 7.2% in June. That offset a fall in the cost of goods, leaving core inflation unchanged at 6.9%. Core inflation is closely watched by the Bank of England because it strips out volatile food and energy costs and is a better gauge of the underlying trend in prices.
The latest figures will worry policymakers and highlight that the battle against inflation is far from won.
They also follow an official release Tuesday that showed the fastest annual growth in wages since records began, adding to fears of a dreaded "wage-price spiral" when rising pay and prices feed into each other, causing inflation to become entrenched.
"With labor costs being the bulk of the expense for services providers, the Bank of England may deem that more work has to be done to ensure that services price inflation is contained," said Ellie Henderson, an economist at Investec in London.
Financial markets are pricing in an approximately 90% chance of a quarter-percentage-point hike next month, which would take the central bank's benchmark interest rate to 5.5% — the highest since December 2007.