Caretaker govt committed to financial prudence: PM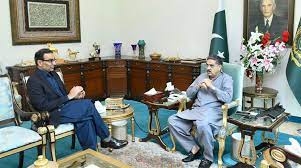 Celina Ali
Islamabad: Caretaker Prime Minister Anwaarul Haq Kakar on Saturday said that in the midst of economic challenges, their unwavering commitment to financial prudence stood strong.
On social media platform X, the prime minister said that from vendors to lawyers, farmers to engineers, artists to doctors, and every other segment of the society, their contribution propelled the 'Pakistani Dream'. "Together, with this diverse support, we are journeying towards a brighter and more prosperous future for our nation," he further posted in a tweet.
The post also carried a short video clip of an address by the caretaker prime minister to the cabinet members regarding financial discipline during a maiden meeting held on Friday.