Italy: Kylie Jenner shares serene getaway in captivating photos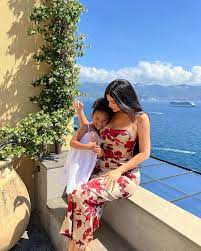 Rome: Contrary to her usual glamorous style, Kylie embraced a more natural look with minimal makeup and opted for a comfortable pair of blue jeans. Her assortment of photos encompassed captivating selfies along with snapshots of herself against the backdrop of the exquisite scenery.
Touching down in Perugia, Italy via a private jet, Kylie and her companions embarked on this journey shortly after commemorating her 26th birthday in Los Angeles. Seated at an al fresco table, the mother-of-two showcased her renowned pout through a sequence of consecutive selfies.
These images highlighted not only her distinct freckles and lush lashes but also the natural waves in her raven-hued hair. With her hand gently placed beneath her chin, she exuded an enigmatic smile.
Further photographs portrayed Kylie in a state of pure vacation contentment, savouring a beverage while soaking in the picturesque vistas.
While the exact destination of her getaway remains undisclosed, it was evident that the 26-year-old was revelling in the beauty of Perugia, Italy.
On Tuesday, she was spotted alongside her half-sister Khloé Kardashian, aged 39, and Khloe's daughter True Thompson, aged five, as they disembarked from their private jet at the local airport, possibly signifying their sojourn in Perugia.