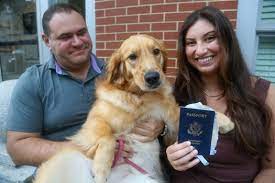 Rome: A mischievous year-and-a-half-old Golden Retriever dog named Chickie chewed up its human's passport days before his wedding in Italy. The dog has eaten through multiple pages of Donato Frattaroli's passport.
Mr Frattaroli and his fiancee Magda Mazri's wedding ceremony is in jeopardy after the incident. Their wedding is scheduled for August 31, reported New York Post.
The couple had gone to city hall to fill out their marriage form on Thursday. After returning they found their dog had chewed up through multiple pages of Mr Frattoroli's passport.
The couple is trying to get a replacement and has reached out to local officials for help.
Mr Frattoroli told WCVB, "I'm just a little stressed. Luckily, Congressman (Stephen) Lynch's office and Sen. (Ed) Markey's office have been super responsive. They've been in touch, at least with me and the State Department, to try to expedite things and get a new passport. Keep my fingers crossed and, hopefully, everything will work itself out." The couple is scheduled to fly to Italy this Friday.
The groom-to-be told the media outlet that if he can't secure a passport before the flight, he will stay at home while his fiancee and their wedding guests go to Italy without him.
He added if he can't get a passport in time for the wedding, he said he'll meet the wedding party when they return to the US.