PPP delegation visits Jaranwala to expresses solidarity with Christian Community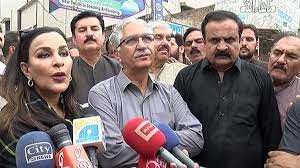 Abdulah Jan
Islamabad: A delegation from the Pakistan People's Party (PPP), led by Vice President Senator Sherry Rehman, visited Jaranwala to extend heartfelt sympathies and support to the Christian community following the tragic events that unfolded on August 16th.
The delegation included Secretary General PPP Syed Nayyer Hussain Bokhari, Information Secretary Faisal Kareem Kundi, Nadeem Afzal Chan, and Malaika Raza.
Senator Sherry Rehman, while addressing the unfortunate turn of events, expressed profound concern and disappointment. "What transpired in Jaranwala on August 16th has not only saddened Pakistanis but has also left Muslims across the globe in a state of deep regret. The scenes we witnessed are heart-wrenching. Today, on behalf of the People's Party leadership and its workers, I stand here to extend our unwavering support and solidarity to the citizens of Jaranwala," she stated.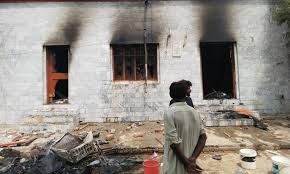 Senator Sherry Rehman remarked, "We marked National Minorities Day on 11th August as a reminder of the rights and contributions of minorities to our nation's progress. Regrettably, the events of August 16th have cast a shadow over this celebration. We demand strict penalties for those involved and justice for the victims."
Senator Rehman further emphasized the importance of religious tolerance and unity. "Islam promotes peace and obligates its followers to safeguard the rights of minorities. Attacks on any community, the burning of religious institutions, and destruction of property have no place in any faith. PPP views minorities as equal citizens, upholding the principles of equality and protection enshrined in our constitution."
Reflecting on the immediate aftermath, Senator Rehman expressed concern for the affected Christian community members, saying, "It is disheartening to learn that our Christian brothers, sisters, and children were forced to seek refuge in fields overnight. We must ask ourselves if this is the Pakistan envisioned by Quaid-e-Azam Muhammad Ali Jinnah. This attack is not only on the Christian community but on the reputation and sovereignty of Pakistan."
Lastly, Senator Sherry Rehman called upon the state to take decisive action. "Pakistan's response to this incident will resonate globally. We must reaffirm that Pakistan is a secure haven for minorities, in line with the vision of Quaid-e-Azam and Shaheed Bhutto. To deter such future incidents, exemplary actions must be taken against those responsible, in accordance with the constitution."
"The PPP delegation's visit to Jaranwala serves as a testament to the party's commitment to a harmonious and inclusive Pakistan, standing strong against any form of discrimination or violence against minority communities," she concluded.
Secretary General PPP, Syed Nayyer Hussain Bokhari, stated that both the constitution and religion grant rights and protection to minorities. It is imperative to restore all churches and provide compensation to the affected individuals. Swift resolution of the case is crucial to convey a strong message within the country, ensuring that minorities feel secure and safeguarded.