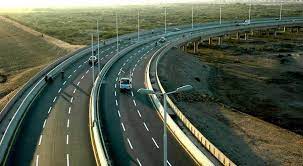 Islamabad: Pakistani Caretaker Communications Minister Shahid Ashraf Tararr has conducted a visit to the Hazara Motorway and Main Line 1 (M-1) projects of the China-Pakistan Economic Corridor (CPEC) issuing directives to ensure the optimal maintenance of the motorways.
He set a 10-day timeline for the relevant officials to address the issue of neglected green belts and waste management.
Additionally, the minister mandated the installation of new signboards where necessary.
Expressing dissatisfaction with potholes on the national highway, he ordered prompt repairs and emphasized the urgent mending of anti-glare screens to prevent accidents.
He also ordered to place safety fences at various locations on the motorways, emphasizing their effectiveness and permanence.
A one-month deadline was fixed for the completion of an under-construction rest area near Shah Maqsood on Hazara Motorway 35-E. Furthermore, the minister instructed that mosques and restrooms be made accessible to passengers once construction is completed.