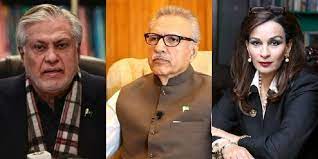 Abdullah Jan
Islamabad: Pakistan People's Party (PPP) and the Pakistan Muslim League-Nawaz (PML-N) on Sunday demanded resignation of President Dr Arif Alvi after the latter denied singing bills amending the Official Secrets Act and the Pakistan Army Act.
Taking to X (formerly Twitter), PML-N leader and former finance minister Ishaq Dar termed the president's remarks "unbelievable" and urged him to resign on account of "having failed to run his office effectively".
"Minimum morality warrants [President] Alvi to resign, having failed to run his office effectively, efficiently and as per Rules of Business," the finance minister, whose government's term came to an end earlier this month said.
"Official work is conducted on files and implementation ensured — such statements only indicate playing with the gallery. God help us!" the PML-N leader added.
PML-N Senator Irfan Siddiqui also demanded President Alvi to resign. "Alvi speak openly. If there was disagreement with the bills, why didn't he register his objections?" he asked.
"What was the purpose of sending back the bill without a yes or no? Why did he remain silent for two days despite the news of the bills being signed coming in the media?" the senator asked.
"Now that he has spoken, the matter became more confusing. If his staff is not in his control, then he [Alvi] should resign and go home," he added.
Meanwhile, PPP Vice President Sherry Rehman – in a statement – said the Arif Alvi's remarks raise questions about his ability to continue as the president.
"Is he trying to say that someone else signed the bills under from under his nose," the PPP leader said, adding that if that's the case, then the president should resign.
Moreover, Sherry Rehman said: "If your staff is not in your control then leave the presidential office," adding that the president was no longer fit to continue in his constitutional position.
Earlier in the day, President Arif Alvi denied signing Official Secrets (Amendment) Bill, 2023 and Pakistan Army Act (Amendment) Bill, 2023 as he "disagreed with these laws".
In a post on social media platform X, Alvi said: "As God is my witness, I did not sign Official Secrets Amendment Bill, 2023 and Pakistan Army Amendment Bill, 2023 as I disagreed with these laws."