China lodges serious démarches over smearing from U.S.-Japan-ROK leaders meeting: FM spokesperson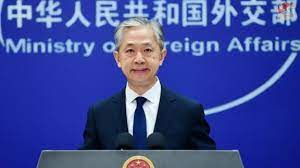 Beijing: China has lodged serious démarches with relevant parties after leaders of the United States, Japan and the Republic of Korea (ROK) smeared and attacked China on Taiwan-related and maritime issues at their Camp David meeting, a Chinese foreign ministry spokesperson said on Monday.
The trilateral meeting discredited China on Taiwan-related and maritime issues, grossly interfered in China's internal affairs, deliberately sowed discord between China and neighboring countries, and seriously violated the basic norms of international relations, spokesperson Wang Wenbin said at a daily news briefing when answering a relevant query.
"China strongly disapproves of and firmly opposes this and has made serious démarches to relevant parties," Wang said.
"We have also noticed that the U.S. side stated that the U.S.-Japan-ROK partnership is not against anyone," Wang said, urging the U.S. side to match its words with actions and act on its statement that the revitalization of its alliances is not targeted at China, stop smearing China's image and harming China's interests, and stop creating division and confrontation and undermining regional peace and stability.
"We see two trajectories in the Asia-Pacific today," Wang added, saying that one features efforts to advance solidarity, cooperation and economic integration. The Regional Comprehensive Economic Partnership (RCEP) and the Comprehensive and Progressive Agreement for Trans-Pacific Partnership (CPTPP) are two examples.
The other features attempts to stoke division and confrontation and revive the Cold War mentality. Examples include exclusionary groupings such as AUKUS, the U.S.-Japan-ROK partnership and Quad, to name just a few, he said.
"Regrettably, the United States has been missing in the former and all examples in the latter are centered around Washington DC," said Wang.
Noting that the Asia-Pacific region is a promising land for peace and development, Wang said it should not be turned into a boxing ring for major power rivalry, still less a battlefield of a cold war or hot war. Attempts to stoke a new Cold War in the region will be met by firm rejection of regional countries and peoples. Those who seek to establish and maintain hegemony in the region are doomed to fail.
"We urge relevant countries not to go against the trend of the times, stop replicating the bloc confrontation elsewhere in this region, and stop pursuing selfish gains at the expense of other countries' strategic and security interests and the wellbeing of people in Asia-Pacific," said Wang.
The Taiwan question is purely China's internal affair. Resolving it is a matter for the Chinese, Wang added.
"We strive for peaceful reunification with the greatest sincerity and the utmost effort, but we will never allow interference in China's internal affairs using 'peace' as a false pretext by anyone or any force," said Wang.
Noting the greatest threat to cross-Strait peace is "Taiwan independence" forces and foreign connivance and support for their activities, Wang said that if relevant countries do care about peace and stability in the Taiwan Strait, they need to abide by the one-China principle, stop conniving at or supporting "Taiwan independence" separatist forces and their activities, and protect regional peace and stability through concrete action.
"No one should underestimate the determination, resolve and capability of the Chinese people in safeguarding China's sovereignty and territorial integrity," said Wang.
Wang added that China has indisputable sovereignty over the Nanhai Zhudao (islands in the South China Sea) and the adjacent waters. China's construction on its own territory and China Coast Guard's action to protect China's rights and enforce the laws in waters under China's jurisdiction are legitimate, lawful and beyond reproach.
As a state party to the United Nations Convention on the Law of the Sea (UNCLOS), China always abides by international law including UNCLOS and does not accept or recognize the illegal arbitral award on the South China Sea, Wang said.
"In recent years, the United States has gone to great lengths to interfere in the South China Sea issue," Wang said, adding that it has encouraged and supported certain countries' violation of other countries' maritime rights and sowed discord between countries in the region, which makes the United States a disrupter and saboteur of the regional order.
He said the United States, together with its allies, frequently conducted military exercises and close-in reconnaissance in waters around China, including the South China Sea, to flex muscles and intensify tensions in the region.
"The United States has become the biggest threat and challenge to regional peace and stability," said Wang.
China will continue to firmly defend its sovereignty and security interests, work with ASEAN countries to fully and effectively implement the DOC, promote steady progress in COC consultations, carry out practical maritime cooperation, and firmly uphold peace and stability and boost development in the region, he added.