President Alvi recommends removal of secretary amid row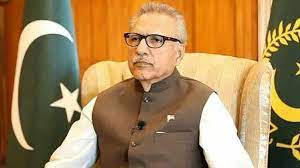 Liaquat Ali
Islamabad: President Dr Arif Alvi on Monday surrendered the services of his secretary Waqar Ahmed to the Establishment Division as the row over signing of bills related to Official Secrets Act and Army Act has intensified.
The president shared the development on social media platform X, formerly Twitter, saying: "In view of the definite statement of yesterday, President's Secretariat has written a letter to Principal Secretary to Prime Minister that the services of Mr. Waqar Ahmed, Secretary to President, are no more required and are surrendered to the Establishment Division, immediately".
He also sought the appointment of Humaira Ahmed, a BPS-22 officer of the Pakistan Administrative Service, as Secretary to the president.
A day earlier, President Alvi said that he did not sign Official Secrets Amendment Bill 2023 and Pakistan Army Amendment Bill 2023 as he disagreed with these laws.
On social media platform X, previously known as Twitter, the president said he had asked his staff to return the bills unsigned within stipulated time to make them ineffective.
"I confirmed from them many times that whether they have been returned & was assured that they were. However I have found out today that my staff undermined my will and command," the president added.
The statement comes after it emerged that the president has signed both bills into law.
On July 31, the National Assembly had passed the Pakistan Army (Amendment) Bill, 2023 with an aim to penalise individuals with a potential five-year imprisonment term for disclosing sensitive information concerning national security or the armed forces.
Separately, the Official Secrets Act got the Lower House's nod just a few days before the dissolution of the National Assembly on Aug 7.