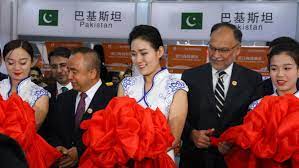 Islamabad: Pakistani and Chinese delegations held meeting in Urumqi and vowed to strengthen the bonds of cooperation.
Former Pakistani federal minister Ahsan Iqbal visited Ma Xingrui, Member of the Polit Bureau of the CPC Central Committee and Secretary of the CPC Xinjiang Uyghurs Autonomous Regional Committee.
Accompanied by Senator Mahmood-ul-Hassan and other officials from the Embassy of Pakistan in Beijing, Ahsan Iqbal met with Chinese counterparts including Erkin Tuniyas, Governor of Xinjiang, Chen Weijun, Executive Vice-Chairman of the People's Government of Xinjiang, Kaysar Abdukerin, Vice Chairman of the People's Government of Xinjiang, and other high-ranking Xinjiang officials.
Expressing a warm welcome to the Pakistani delegation, Party Secretary Ma Xingrui acknowledged the enduring relationship between the two countries despite global political changes, said an official statement issued here. He conveyed President Xi Jinping's strong commitment to strengthening the strategic cooperative partnership across various sectors.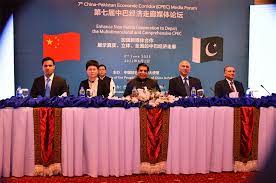 Party Secretary Ma commended Ahsan Iqbal's leadership, professionalism, and educational background, highlighting his valuable contributions to the China-Pakistan Economic Corridor (CPEC). He regarded Professor Ahsan Iqbal as an experienced politician poised to contribute further to CPEC's success.
Party Secretary Ma revealed President Xi Jinping's aspiration to make CPEC an exemplary project under the Belt and Road Initiative (BRI), with Xinjiang playing a pivotal role in regional and economic development.
He reassured the commitment of his government to maximize the potential of the Khunjrab-Sost-Kashgar border market.
Ahsan Iqbal congratulated Xinjiang's senior leadership on successfully hosting the China-Eurasia Commodity and Trade Expo-2023 in Urumqi. He commended the CPC leadership for driving industrial growth, economic development, and addressing extremism in Xinjiang.
Recognizing Xinjiang's strategic location, Professor Iqbal proposed establishing a Border Market across Khunjrab Pass to boost trade, development, and investment between both countries.
He envisioned connecting Xinjiang with Gilgit-Baltistan and Gwadar regions through road and rail networks, facilitating Xinjiang's access to the seaport.
Referring to the "iron brothers" All-Weather Strategic Cooperative Partnership, Iqbal suggested forming a dedicated Joint Working Group to foster trade, development, and cultural cooperation between GB and Xinjiang under CPEC.
Stressing the strategic significance of CPEC, Professor Iqbal emphasized the collaborative completion of the project's second phase.
He underscored the importance of strong ties between Xinjiang and Gilgit-Baltistan for CPEC's success, and advocated for educational exchange programs between their universities.
Senator Mahmood-ul-Hassan proposed streamlining customs clearance procedures at Tashgurkan and Urumqi airports to facilitate trade. He highlighted the potential for cooperation in agriculture and livestock, including transferring breeding technology to Pakistan.
Emphasizing enhanced trade and investment cooperation, Senator Mahmood-ul-Hassan invited Xinjiang-based Chinese enterprises to participate in the Pakistan-Xinjiang Trade and Investment Conference.
CPC Secretary Ma Xingrui accepted the proposal to establish a border market and instructed the formation of a team to work out the details.
Both parties agreed to establish a Joint Working Group for long-term collaboration between GB and Xinjiang, focusing on trade, development, investment, and connectivity. Strengthening people-to-people contacts and cultural exchanges were deemed essential.
The Pakistani side extended a cordial invitation to Party Secretary Ma Xingrui to visit Pakistan, which he graciously accepted.