Pakistan marks International Day of Remembrance of and Tribute to the Victims of Terrorism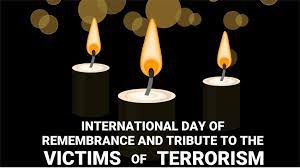 Celina Ali
Islamabad: On the occasion of the International Day of Remembrance of and Tribute to the Victims of Terrorism, Pakistan Monday joined the international community in honouring the lives lost and the survivors of terrorist attacks.
"On this day, our thoughts are with the survivors and the families of the victims. We honour the memory of our heroes who sacrificed their lives in the fight against terrorism," said a foreign ministry statement.
It added: "As a nation that has braved the brunt of terrorism, Pakistan deeply understands the pain and suffering of the victims of terrorism around the world.
"For the last two decades, Pakistan has been a victim of terrorism planned, supported and sponsored from across our borders. During this period, it suffered more than 80,000 causalities and incurred over US$ 150 billion in losses to the economy. These challenges did not deter us. Pakistan remained resolute in its resolve to combat terrorism. With national commitment, matchless resilience and unparalleled sacrifices of the people, Pakistan has managed to turn the situation and score victories against terrorism.
"As we remember and pay tribute to victims worldwide, we must also remember the victims of state terrorism including in the Indian Illegally Occupied Jammu and Kashmir (IIOJK). Since the 1990s Indian troops have martyred over 100,000 Kashmiris, widowed over 22000 women, orphaned 108000 children and raped over 11000 women in IIOJK. The international community must stand with victims of state terrorism in IIOJK as well.
"It is imperative for the international community to adopt a comprehensive approach to counter terrorism and address its root causes. Prolonged unresolved conflicts, foreign occupation and denial of the right to self-determination create conditions for extremism and terrorism which should be addressed comprehensively.
"As a global community, our strength lies in unity, shared understanding, and collaborative action. By strengthening international partnerships, dialogue, and cooperation, we can envision a world free from the scourge of terrorism.