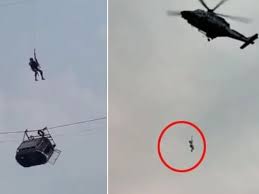 Two wires of the motor-driven conveyor carrying school children snapped, leaving them stranded mid-air a special commando of the armed forces approaches the cable car as six children and two adults remain stranded in battagram tehsil photo express
Five children were successfully rescued by Pakistan Army troops one through a helicopter sling operation and four by ground operation after two wires of a cable car snapped in Battagram's Allai tehsil on Tuesday morning, leaving at least eight, including schoolchildren and a teacher, stranded over 600 feet mid-air.
Inter-Services Public Relations (ISPR), said in a statement that the GOC SSG is himself supervising the operation.
According to the latest reports, a final helicopter rescue attempt was being carried as a last resort as a helicopter operation in the dark can be very risky and dangerous given the weather conditions and low daylight conditions as night time approaches.
Authorities have decided to continue the rescue operation from the ground with the help of the Pakistan Army so that the operation may be continued even in the dark of night.
Earlier today, the Hazara Division Commissioner's Office reached out to the National Disaster Management Authority (NDMA), the Provincial Disaster Management Authority (PDMA) and the provincial government's relief, rehabilitation and settlement department seeking a helicopter on urgent basis to initiate the rescue operation.
Following which, the PDMA too reached out to the NDMA director Islamabad and a helicopter was dispatched by the Pakistan Army to expedite the rescue operation. A second helicopter was sent by the military shortly after.
The first aircraft left after conducting a survey to assess the situation. With two out of three cables of the gondola broken, the situation is precarious, officials told Newswire.
Around 20 SSG commandos were in one of the helicopters as they assessed the situation. Meanwhile, rescue workers on ground began the process of laying down nets to prepare for any mishaps.
During the first attempt, it was observed that, as the cable car is hanging by one wire, it is extremely sensitive to wind pressure. As the helicopter neared the cable car, the downwash generated by the aircraft caused the latter to shake and become unstable.