APCEA holds briefing on CPEC energy projects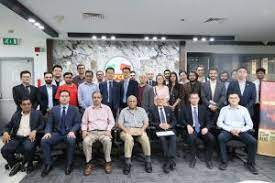 Liaquat Ali
Islamabad: The All-Pakistan Chinese Enterprises' Association (APCEA) on Wednesday organized a comprehensive briefing for media and think tanks to apprise about potential and significance of existing and ongoing energy projects under the China Pakistan Economic Corridor (CPEC).
The briefing titled "Infodor Salon on CPEC Energy Projects" brought together media, think tanks and representatives from seven key CPEC energy enterprises.
The consortium of seven companies included Power China Pakistan, China Three Gorges South Asia Investment Ltd, China Energy International Group Company Limited Pakistan Branch, China Power Hub Generation Company (PVT.) Ltd, China Electric Power Equipment and Technology Company, China Machinery Engineering Corporation, and Huaneng Shandong Ruyi (Pakistan) Energy (Pvt) Ltd.
During the briefing, the Power China Pakistan representative said that the company had been a pivotal driving force in the development of the CPEC since its debut in Pakistan back in 1987. Our investments in regional infrastructure growth, particularly in the domain of power plants, has been instrumental in transforming the landscape of Pakistan's energy sector, he said.
Currently, he said that there were 41 ongoing projects, including subcontracts, under CPEC with a contract value exceeding 6 billion US dollars. Approximately, 1,500 skilled Chinese personnel are working hand in hand with more than 11,000 talented local Pakistani professionals in these projects, he said.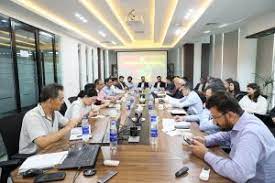 As the leading enterprise of the APCEA, he said, "We stand at the forefront of groundbreaking endeavors. We have invested in and constructed the Dawood Wind Power Project in Pakistan, as well as the largest super-critical coal-fired power plant, the Port Qasim Coal-fired Power Plant. We have successfully completed the Tarbela Hydropower Project, which is the largest hydroelectric power station in terms of installed capacity in Pakistan, he expressed.
As regards the ongoing projects, he said that the company was working on construction of the world's tallest and largest roller-compacted concrete dam, the Basha Dam project, as well as the 765KV Dasu Transmission Line Project, which represented the highest voltage level in Pakistan's power infrastructure.
He said the company's contributions to economic development, local employment and fulfillment of social responsibilities has been commended and publicized, receiving praise on official media and various social media platforms within the framework of the CEPC.
China Power Hub Power Generation Representative Li Hualin said that the total investment of the energy project, launched in Balochistan by the company, was more than US$ 1.9 billion. He said that the project had generated more than 23 billion kWhs cost effective and clean electricity to national grid, which was an excellent way to contribute economic development and tax revenue for Government of Pakistan.
Since the beginning of the construction on this project, he said CPHGC has been committed to the goal of creating a "desert oasis" and creating a green and environmentally friendly ecological power plant.
He said the project was constructed in accordance with strict environmental standards and had won 74 national and provincial awards, including National Quality Engineering Gold Award, Lu-ban Award and some international awards.
At present, he said a total of 868 Pakistani employees were working in CPHGC, of which Balochistan employees accounted for 31 per cent.
According to News and Media Director of APCEA, the association was an influential, self-disciplined organization with more than 200 member Chinese enterprises and organizations based in Pakistan. He said it strove to enhance the economic and social cooperation between the member and local enterprises – thus advancing China-Pakistan diplomatic ties. It had successfully established an avenue that facilitates mutual business ventures as well as economic and social connectivity, he added.
He said that currently, APCEA had three branches operating – in accordance with Pakistani laws – in Islamabad, Lahore, and Karachi, respectively. Its member enterprises sustain projects all across Pakistan in various sectors ranging from Energy, Aviation, Infrastructure, Textile, and Telecommunication to Industrial Manufacturing and Mining.