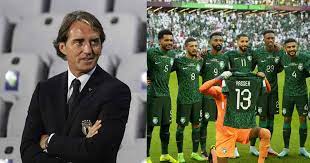 Rome: Roberto Mancini, the former Italy manager who led the Azzurri to the Euro 2020 title, is set to become the new boss of the Saudi Arabia national team. Mancini has agreed to a deal with the Saudi Arabian Football Federation (SAFF) worth a staggering £77 million.
Mancini resigned as Italy's manager on August 13, just over a month after he guided his country to their second European Championship trophy in history. The Italian coach also led them to third place in the Nations League twice in his stint there. Mancini has also coached Lazio, Inter Milan, and Manchester City in Europe, winning the Premier League and Serie A twice with Inter Milan.
He was replaced by former Napoli manager Luciano Spalletti for the Italian national team, who was appointed on August 15. Mancini, meanwhile, will take over a Saudi Arabia team that qualified for the 2022 World Cup and even beat eventual champions Argentina. Mancini's first challenge will be a couple of friendly games against Costa Rica and South Korea in September.
According to Le Gazzetta Dello Sport, Mancini will earn around £25-30 million per year until 2026, making him one of the highest-paid managers in the world. Mancini's first bid for a title will come at the Asian Cup in January 2024, where Saudi Arabia is in Group F with Thailand, Kyrgyzstan, and Oman.
Mancini will reportedly soon meet with his staff to help them get ready for the next phase of their careers. Lele Oriali, a legend of Inter and former Italy team manager under Mancini might accompany him.