We will fight extremism, surrender not an option: PM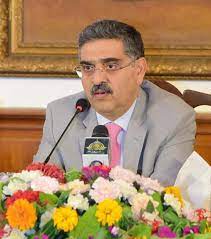 Karachi: Caretaker Prime Minister Anwaar-ul-Haq Kakar on Wednesday categorically said that Pakistan would never surrender to radicalization, extremism and intolerance but rather would fight without falling prey to war fatigue. "Those who think we will fall prey to war fatigue should clear their misunderstanding.
This war is not fought by individuals… This war is fought by nation… Surrendering is not an option. We will fight no matter what," he said during a press conference during his visit here. Caretaker Minister for Information and Broadcasting Murtaza Solangi and Sindg Governor Kamran Tessori accompanied the prime minister. Referring to the martyrdom of soldiers in South Waziristan on Tuesday, he said that Pakistan was not a power that will return 5,000 kilometers away from here. "This is our home. We are here. We will run our home in our own way," he said. The prime minister said those trying to undermine the morale of the Pakistani nation should clear their misunderstanding as Pakistan would never forget the sacrifices of its martyrs. He said Pakistan was not fighting this war on alms but rather spending our own taxpayers' money.
He said the Pakistani soldiers were not rendering sacrifices in return for the salaries. "Their service is not in return for salaries, rather respect and dignity is their salary. Salary is just meant to suffice their needs. The nation pays them in the form of respect," he remarked. Prime Minister Kakar said that those who were trying to create chaos in the name of religion were actually miscalculating and misreading. "This is a clear message.
They can fight for a limited time, but not for long. They are miscalculating and misreading whom they are faced with. We are not afraid of suicide attackers," he said. Referring to the rescue operation of trapped eight passengers of a cable car in Battagram, the prime minister said the country's infrastructure was becoming a threat to human lives. "We were overwhelmingly over the moon as we heard the rescue of the last kid…We will celebrate it as it gave us an opportunity to unify us," he commented and appreciated the rescuers for the way they rescued the kids and children for the way they controlled their nerves in a heroic way. He said the defense institutions did not only face challenges on external fronts but also take a lead role in crisis management.
He also asked the National Disaster Management Authority (NDMA) and other relevant departments to improve their performance.