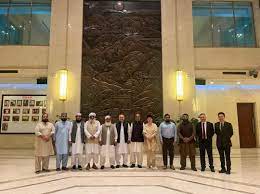 Islamabad: The Chinese Embassy organized a grand dinner in honor of respected religious scholars, demonstrating a bridge of cultural and religious understanding between the two countries.
Expressing his thoughts on the occasion at the event last night, Chairman of the Council of Islamic Ideology, Dr. Qibla Ayaz, conveyed that the Chinese hosts warmly welcomed the delegation during the reception, underscoring China's commitment to cultural exchange and diplomatic engagement.
He stated that the primary purpose of the visit was to foster religious dialogue and comprehension between China and Pakistan.
The participants engaged in conversations on a range of subjects, including interfaith harmony, cultural interchange, and collaboration in areas of mutual interest.
Dr. Qibla mentioned that the diverse assembly of religious leaders and scholars expressed their appreciation for the generous hospitality they received, while also conveying their eagerness to strengthen bilateral relations through dialogue and cooperation.
The delegation consisted of prominent figures such as Dr. Qibla Ayaz, Israr Madani, Maulana Fazl Ali Haqqani, Tahmeed Jan Azhari, Maulana Muhammad Tayyab Tahiri, Asif Luqman Qazi, Maulana Rashid ul Haq, Ismail, and Mehboob Ahmad Ghazi.