Significance and potential of ongoing energy projects within CPEC highlighted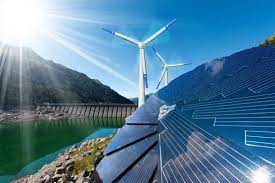 Islamabad: The All-Pakistan Chinese Enterprises' Association (APCEA) organized an informative session for media and think tanks to provide insights into the significance and potential of ongoing energy projects within the China Pakistan Economic Corridor (CPEC)
The event, titled "Infodor Salon on CPEC Energy Projects," brought together representatives from seven prominent CPEC energy enterprises along with media and think tank members.
This consortium of companies includes notable names like Power China Pakistan, China Three Gorges South Asia Investment Ltd, China Energy International Group Company Limited Pakistan Branch, China Power Hub Generation Company (PVT.) Ltd, China Electric Power Equipment and Technology Company, China Machinery Engineering Corporation, and Huaneng Shandong Ruyi (Pakistan) Energy (Pvt) Ltd. APCEA conducted the briefing on CPEC energy projects.
During the session, a representative from Power China Pakistan highlighted their significant role in driving CPEC's development since its inception in Pakistan in 1987.
The company's investments in regional infrastructure, particularly in the realm of power plants, have been instrumental in reshaping Pakistan's energy landscape.
Presently, there are 41 ongoing projects under CPEC, including subcontracts, with a combined contract value surpassing 6 billion US dollars. These projects involve collaboration between around 1,500 skilled Chinese personnel and over 11,000 talented Pakistani professionals.
As a leading member of APCEA, Power China Pakistan takes pride in their pioneering efforts. Notable accomplishments include the Dawood Wind Power Project and the Port Qasim Coal-fired Power Plant. They have also successfully completed the Tarbela Hydropower Project, Pakistan's largest hydroelectric power station.
Among the ongoing projects, Power China Pakistan is working on the Basha Dam project, the world's tallest and largest roller-compacted concrete dam, as well as the 765KV Dasu Transmission Line Project, representing the highest voltage level in Pakistan's power infrastructure.
Li Hualin, representing China Power Hub Power Generation, mentioned that their energy project in Balochistan involved an investment exceeding US$ 1.9 billion.
This project has contributed over 23 billion kWhs of cost-effective and clean electricity to the national grid, making a positive impact on economic development and tax revenue for the Government of Pakistan. The project adheres to strict environmental standards and has received numerous awards.
APCEA emphasized the association's influential role, with over 200 member Chinese enterprises and organizations in Pakistan. The association aims to strengthen economic and social cooperation between its members and local enterprises, thereby advancing China-Pakistan diplomatic ties. APCEA operates branches in Islamabad, Lahore, and Karachi, fostering business ventures, economic connectivity, and mutual cooperation across various sectors throughout Pakistan.