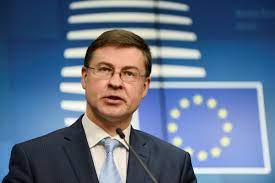 Brussels: A senior European Union official urged Russia on Saturday to renew a deal to allow the safe export of Ukrainian grain through Black Sea ports, after Russia quit the agreement last month.
European Commission Executive Vice President Valdis Dombrovskis said Russian restrictions on shipping of Ukrainian grains via the Black Sea were creating problems not only for Kyiv but for many developing countries as well.
Russia is using "grain as a weapon", said Dombrovskis, who is in India to participate in a G20 trade ministers' meeting.
"We support all efforts by United Nations, by Turkey on Black Sea grain initiative," he told reporters, adding the bloc was providing alternative trading routes, also called solidarity lanes, to Ukraine for grain and other exports.
Turkey has been trying to persuade Moscow to return to the agreement, which was brokered by Ankara and the United Nations a year ago and which ended last month.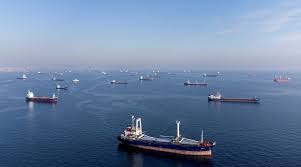 Russian Foreign Minister Sergei Lavrov told UN Secretary-General Antonio Guterres on Thursday that Russia will return to the deal only if the West fulfills its obligations to Moscow.
So far, some 45 million tonnes of grain, oilseeds and related products have been exported through alternative routes via Poland and Romania, providing an important lifeline to Ukraine, Dombrovskis said.
According to EU Commission website, the bloc has used the alternatives routes since May 2022.
The commission launched the Solidarity Lanes Action Plan to establish alternative logistics routes via rail, road and inland waterways.
These routes have also helped Ukraine export over 36 million tonnes of non-agricultural products including iron ore, steel, earths and wood, generating about 33 billion euros ($35.64 billion) for Ukrainian farmers and businesses, the EU said on its website.