Europe hits roadblocks in the race to switch to electric cars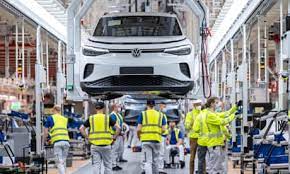 Brussels: European countries are struggling to persuade people to switch from combustion engine cars to electric ones, experts warn.
Europe sells 10 times more electric cars today than it did just six years ago, according to the International Energy Agency, but its fleet is cleaning up too slowly to meet its climate goals. Governments across the continent are struggling with the price-tag of electric vehicles, which can cost several thousand euros more upfront than comparable ones that burn fossil fuels.
"What we have learned is that it's not enough just to incentivise electric vehicle purchase and ownership," said Julia Poliscanova, an analyst at campaign group Transport and Environment. "You also have to disincentivise the purchase of conventional cars at the same time."
The EU's move to cleaner cars is part of its promise to cut planet-heating pollution 65% from 1990 levels by the end of the decade, and hit net zero by 2045. But even as it has slashed emissions in its power sector, putting up wind turbines and shutting down coal plants, emissions from road transport have risen steadily in the background.
Transport was the "problem child" of climate protection, said Christian Hochfeld, head of Agora Verkehrswende, a clean transport thinktank in Germany. Because most alternatives to cars took time and money to build, the full switch to electric vehicles was "the most critical issue" for reducing emissions in the next decade, he said.
The EU plans to bring car emissions down by 55% from 2021 levels by the end of the decade, and to zero by 2035. But customers are put off by the high upfront price of electric cars, even if they pay off in the future through lower running costs.
To help counter this, countries across Europe offer customers financial incentives to buy cleaner cars. According to the European Automobile Manufacturers' Association (ACEA), 21 of the 27 EU member states offer tax breaks when buying a low-carbon car, while 20 offer money to help with the purchase.
Romania offers as much as €11,500 to people buying an electric vehicle. Belgium has incentives for company cars, which form the bulk of its new car sales and serve as a pipeline to the secondhand market that more people can afford. Italy and Spain contribute to the cost of infrastructure to charge electric vehicles. France offers a €5,000 purchase bonus and exempts electric vehicles from penalties based on weight.
"It's not perfect, but what the French are doing is really going in the right direction," said Poliscanova.
In a bid to persuade poorer households to use electric cars, France has announced plans for a social leasing scheme that would let "those who need it most" rent an electric car for €100 a month. The government is particularly wary of green policies that raise costs for poorer households after an attempt to raise fuel taxes in 2018 sparked widespread riots and gave rise to the "yellow vest" protest movement.
French president Emmanuel Macron, who trumpeted the scheme before elections last year, is yet to set out a concrete plan of how it will work. But the political signal had already encouraged some French carmakers to move towards small and cheap electric cars, instead of heavy and expensive ones, said Poliscanova.
In Germany, meanwhile, the government has cut subsidies for electric vehicles as the number of people buying them has soared.
"It's not sustainable to put out subsidies as high as we did in the past," said Hochfeld, "and it's also not socially fair because everyone in Germany – every taxpayer – pays for this transition, even if they don't have a car."
Germany is Europe's biggest polluter and car market. While it taxes car ownership and provides an exemption for electric vehicles, it does not tax car acquisition, the point at which consumers decide whether to buy the vehicle.
It would be fairer to tax vehicles at the point of purchase and subsidise electric vehicles through that, said Hochfeld.
"Why should a nurse pay for the electric vehicle of a dentist … who's able to buy a big SUV with subsidies? That's not fair. But if the lawyer buying a combustion engine car would pay for the dentist who buys an electric vehicle? I would say that's OK."
Marc Lüers, managing director of online marketplace Carwow, said that the German car market had "flipped" since the war in Ukraine, with demand for electric cars in particular suffering from rising inflation and falling subsidies.
Apart from the price of the vehicle, he added, "the two largest concerns of electric vehicle-buyers in Germany are charging infrastructure and the price of electricity".
Just seven EU countries offer incentives for charging infrastructure, according to the ACEA.
To boost uptake of electric cars, the quantity of different policies mattered as well as the quality, said Gracia Brückmann, an energy researcher at the University of Berne.
In Norway, for instance, where 9 in 10 new cars sold are electric or hybrids, the government provided a range of incentives for electric vehicles as early as the 1990s, which it later phased out. As well as tax breaks, the government offered free parking, access to ferries and the right to drive in bus lanes.
This helped governments find the right fit for each person, said Brückmann. "The more policies you have in place, the lower your car fleet's total emissions gets over time."