PM, Lord Aamer Safraz discuss ways to enhance Pakistan-UK ties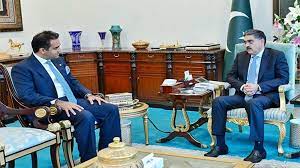 Celina Ali
Islamabad: Caretaker Prime Minister Anwaar-ul-Haq Kakar Monday here held a meeting with Member of House of Lords of British Parliament Lord Aamer Sarfraz and discussed matters of mutual interest.
They discussed ways to expand cooperation between the two countries in trade, investment, developmental planning and other fields.
The prime minister appreciated the services of Pakistanis living in Britain, particularly their contribution to the British political system.
He said the Pakistanis residing in Britain were playing an important role in further improving ties of Pakistan and the United Kingdom (UK).
Lord Aamer Sarfraz congratulated the prime minister for assuming the office and assured full cooperation from the British political leadership and the Pakistanis living in Britain.