US DCM Andrew Schofer assures to stand with Pakistan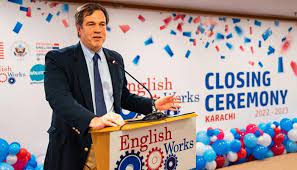 Celina Ali
Islamabad: A ceremony jointly organized by Pakistan Police and United States Institute of Peace, titled "Police Awaam Saath Saath Team" was held in Islamabad Monday.
Speaking on the occasion, the US Deputy Chief of Mission Andrew Schofer assured that his country will continue to stand shoulder-to-shoulder with Pakistan Police to increase capabilities and number of female officers as they are champion of our common causes of security and justice.
He said the United States Institute of Peace, and the US Embassy has an extraordinary partnership with the Pakistani Police and has made significant progress towards a more inclusive police force that elevates female police officers across the country.
The US Deputy Chief of Mission said with the support of law enforcement agencies and United States Institute of Peace, we have seen an impressive increase of more than 20 percent in female police representation in Balochistan and Khyber-Pakhtunkhwa Police over the past three years.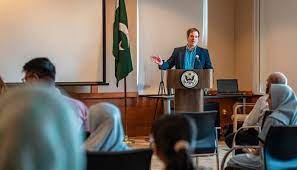 Andrew Schofer said the Punjab Police and its women's police council have trained more than 1,800 women officers as victim support officers.
Speaking on the occasion, Member Governance Innovative and Research Planning Commission of Pakistan, Dr. Adnan Rafiq underscored the need of women empowerment and emancipation for development of the country.
Inspector General National Highways and Motorway Police, Sultan Ali Khawaja called for utilizing latest digital tools and social media to resolve issues of people at their door steps.