UK Foreign Secretary visits Beijing to further British interests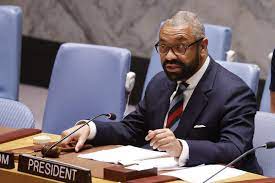 London: Foreign Secretary James Cleverly is travelling to Beijing to strengthen channels of communication to further and protect British interests as set out in his Mansion House speech.
In the speech in April, the Foreign Secretary set out the UK's multifaceted approach to China across 3 pillars. First, to protect national security whenever Beijing poses a threat to UK people or prosperity, second, to align cooperation with friends and allies in the Indo-Pacific and across the world to uphold international law, and third, to engage directly with China to promote stable relations.
Now, in the first visit of a UK Foreign Secretary for over 5 years, James Cleverly will hold bilateral meetings with China's Minister of Foreign Affairs and Director of the Office of the Central Foreign Affairs Commission Wang Yi, and Vice President Han Zheng.
Issues such as climate change cannot be tackled without China – as the world's largest investor in sustainable energy and the largest emitter of carbon, the choices that China makes are critical to our collective ability to tackle this global problem.
The Foreign Secretary will say that China's global significance comes with a responsibility on international security – helping to end Putin's invasion of Ukraine, diffusing tensions in the South China Sea and ceasing malign activity in cyberspace.
During his visit, the Foreign Secretary will raise Beijing's human rights obligations, including in relation to communities in Xinjiang and Tibet. He will also challenge China on the erosion of autonomy, rights and freedoms in Hong Kong under the Beijing-imposed National Security Law, as well as other UK interests including the sanctions placed on UK MPs.
Foreign Secretary James Cleverly said: "It is important we manage our relationship with China across a range of issues.
"No significant global problem – from climate change to pandemic prevention, from economic instability to nuclear proliferation – can be solved without China.
"China's size, history and global significance means they cannot be ignored, but that comes with a responsibility on the global stage. That responsibility means China fulfilling its international commitments and obligations.
"It is important to have discussions face to face and raise these issues directly with the centre of the Chinese system, making clear the UK's position with the decision makers in Beijing. This approach is in line with that of international partners, such as the recent visits of Five Eyes and European partners.
The engagements come after a visit to the Philippines, where the Foreign Secretary held talks on a range of subjects including maritime security, climate and trade."