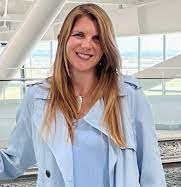 Karachi: The newly appointed British High Commissioner to Pakistan Jane Marriott, the United Kingdom's first woman high commissioner to Pakistan, who arrived at Karachi on Sunday, visited the Royal Navy's HMS Lancaster here on Tuesday.
The HMS Lancaster is in Karachi on a routine bilateral Royal Navy-Pakistan Navy training exercise 'White Star', which commenced here on Wednesday. The exercise also involves PNS Taimur and PNS Yarmook.
The visit is part of a range of defence diplomacy activities as part of the UK's commitment to maintaining its well-established defence relationship with Pakistan.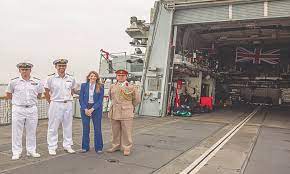 Having spent around a month in Islamabad already, the envoy's visit to the post city made her realise that Karachi is one of the best places in Pakistan to discuss business. She called the city the country's "beating heart" and home to some of the country's most pioneering industries. "I am looking forward to hearing from the UK and Pakistani businesses on how we can support each other's ambitious trade goals here," she said.
She noted that bilateral trade between the UK and Pakistan had nearly tripled now to 4.4 billion pounds. "I have ambitions for much more than that though," she said. "At the moment it is primarily about textiles from Pakistan going to the UK, and about metals and parts coming from the UK to Pakistan. But we are starting to look at how we can get to more of a 21st Century relationship in IT services, too. We really need to turbocharge that part of the trade in our relationship as well," she pointed out.
The high commissioner also mentioned the UK's humanitarian efforts during last year's floods. "Last year, we put in 39 million pounds into our flood response, which helped millions of Pakistanis with water, sanitation and shelter," she said.