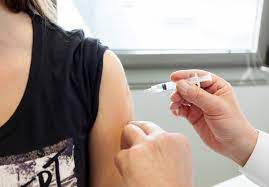 London: This year's autumn flu and COVID-19 vaccine programmes will start earlier than planned in England as a precautionary measure following the identification of a new COVID-19 variant.
The precautionary measure is being taken as scientists from the UK Health Security Agency (UKHSA) examine the variant BA.2.86, which was first detected in the UK on Friday 18 August 2023.
According to the latest risk assessment by UKHSA, BA.2.86 has a high number of mutations and has appeared in several countries in individuals without travel history.
While BA.2.86 is not currently classified as a variant of concern, advice from UKHSA suggests that speeding up the autumn vaccine programme will deliver greater protection, supporting those at greatest risk of severe illness and reducing the potential impact on the NHS.
The decision means those most at risk from winter illness – including people in care homes for older people, the clinically vulnerable, those aged 65 and over, health and social care staff, and carers – will be able to access a COVID vaccine in September.
The annual flu vaccine will also be made available to these groups at the same time wherever possible, to ensure they are protected ahead of winter.
Vaccinations are now set to start on 11 September 2023, with adult care home residents and those most at risk to receive vaccines first. NHS England will announce full details of the accelerated roll-out soon, and those who fall into higher-risk groups are being encouraged to take up the jab as soon as they're invited.
There is no change to the wider public health advice at this time.
Health Minister, Maria Caulfield said: "As our world-leading scientists gather more information on the BA.2.86 variant, it makes sense to bring forward the vaccination programme.
It is absolutely vital the most vulnerable groups receive a vaccine to strengthen their immunity over winter to protect themselves and reduce pressure on the NHS.
I encourage anyone invited for a vaccination – including those yet to have their first jab – to come forward as soon as possible."
Chief Executive of the UK Health Security Agency, Dame Jenny Harries said: "As we continue to live with COVID-19 we expect to see new variants emerge.
"Thanks to the success of our vaccine programme, we have built strong, broad immune defences against new variants throughout the population. However, some people remain more vulnerable to severe illness from COVID-19. This precautionary measure to bring forward the autumn programme will ensure these people have protection against any potential wave this winter.
There is limited information available at present on BA.2.86 so the potential impact of this particular variant is difficult to estimate. As with all emergent and circulating COVID-19 variants – both in the UK and internationally – we will continue to monitor BA.2.86 and to advise government and the public as we learn more. In the meantime, please come forward for the vaccine when you are called.
For operational expediency and in line with public health recommendations, wherever possible flu and COVID-19 vaccines should be administered at the same time.
The vaccination campaign was previously due to commence in early October 2023. This is because the best protection is usually provided by getting vaccinated with as short a gap as possible before exposure to circulating influenza and COVID-19 viruses.
The advice from the Joint Committee on Vaccination and Immunisation (JCVI) for this autumn, is to offer the vaccine to those at high risk of serious disease from COVID-19 and who are therefore most likely to benefit from vaccination.
Those eligible for vaccination are encouraged to take up the offer of the vaccine as soon as they are called to ensure they head into winter with the best protection."