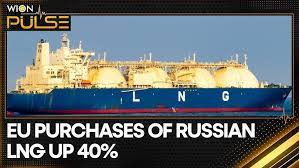 Brussels: The European Union vowed to drastically cut imports of gas from Moscow over its invasion of Ukraine but data shows the bloc's purchases of Russian-made liquefied natural gas (LNG) have soared.
According to new findings released by Global Witness, an environmental watchdog organisation, the European Union bought 21.6 million cubic metres (mcm) of Russian LNG between January and July of this year, a small increase compared to the same period in 2022, when imports totalled 21.3 mcm.
But when the 2023 figure is measured against the same period in 2021, prior to the Kremlin's decision to wage war on Ukraine, it results in a 39.5% surge, an embarrassing percentage for a bloc that has forcefully condemned the invasion as an illegal, brutal and ruthless attempt to subjugate Ukraine's independence.
Making matters more uncomfortable, three member states can be found among the five major clients of Russian LNG in the first seven months of his year: China came on top with 8.7 mcm in purchases, followed by Spain (7.5 mcm), Belgium (7.1 mcm), Japan (7 mcm) and France (4.5 mcm).
As coastal countries, Spain, Belgium and France have become busy destinations for LNG carriers, which need to unload their supplies on sophisticated terminals where the cooled-down liquid is turned back into gaseous form and sent to power plants.
The Netherlands, Greece, Portugal, Finland, Italy and Sweden were also listed by Global Witness as current consumers of Russian LNG. The numbers are based on shipping data obtained from Kpler, an analytics firm.
Overall, the EU is estimated to have bought 52% of all of Russia's LNG exports between January and July, a market share that exceeds the 49% mark of 2022 and 39% of 2021.
This year's shopping spree was worth €5.29 billion, Global Witness said, an amount that throws into question the bloc's efforts to weaken the Kremlin's war chest, which is fundamentally sustained by international sales of fossil fuels.
Since the start of the war, the EU has banned imports of Russian coal and Russian pipeline oil but has conspicuously spared those of Russian gas. While flows of pipeline gas have been dramatically reduced through national plans and Vladimir Putin's retaliation, tanks of Russian LNG appear to be warmly welcomed at European ports.
"Buying Russian gas has the same impact as buying Russian oil. Both fund the war in Ukraine, and every euro means more bloodshed. While European countries decry the war, they're putting money into Putin's pockets," Jonathan Noronha-Gant, a senior fossil fuel campaigner at Global Witness, said in a statement.
Data from Eurostat paints a similar pattern: in the first quarter of 2023, Russia was the EU's second-largest supplier of LNG, only behind the United States and ahead of Qatar, Algeria, Norway and Nigeria.
Market data analysed by Bruegel, a Brussels-based economic think tank, shows no considerable variation in the flows of Russian LNG, despite the multiple rafts of sanctions and growing evidence of possible war crimes committed inside Ukraine: the EU bought 1.99 mcm of Russian LNG in March 2022, the first full month of the invasion, and 1.59 mcm in July 2023, the last month on record.
Isaac Levi, a senior analyst at the Centre for Research on Energy and Clean Air (CREA), a research institution that also tracks Russia's fossil fuel sales, warned that even though coastal countries are the primary point of arrival for LNG carriers, the final consumers might lie elsewhere across Europe.
"When LNG cargoes are discharged in these countries, it doesn't necessarily imply that the gas molecules remain there," Levi said. "Instead, the possibility of Russian LNG being re-exported to other EU destinations exists."