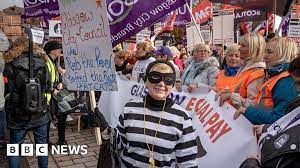 Brussels: Women will still have the right to equal pay with men when an EU protection lapses at the end of this year, the government says.
The protection – which is aimed at helping workers whose jobs have been outsourced – was axed in a post-Brexit purge of EU-derived laws.
But the government has said it will now ensure the right remains under UK law.
It comes after Labour accused ministers of removing protections for low-paid women through the backdoor.
Under UK equality law, men and women in the same employment performing equal work must receive equal pay, unless any difference can be justified.
But this does not always cover women who work for outsourcing companies or those employed in different locations to men but doing similar jobs.
An EU provision – known as the "single source test" – closed this loophole, giving workers the right to equal pay if they ultimately work for the same "source".
It helped low-paid women take action against their employers over pay, but was one of hundreds of laws to be abolished by January 2024 under the EU Retained Law Act, which was passed in June.
On Tuesday evening, the government announced that it was planning to pass laws to keep the protections by the end of the year.
"There will be absolutely no reduction in equal pay protections," a spokesperson for the government's Equalities Hub said.
"The new secondary legislation will be laid in Parliament long before the end of the year."
It came after Labour accused the government of destroying the rights of some of the country's lowest paid women – and promised to reinstate the "single source" test if it wins power.
Posting on X, formerly known as Twitter, after the government's announcement, Labour's shadow women and equalities secretary Anneliese Dodds said: "A Tory U-turn within hours of Labour committing to keep vital equal pay rights for women.
"But women will wonder if the party that put these rights at risk can really be trusted to protect them.
"Only Labour will act to deliver equal pay justice for women."
Supermarket giants, including Asda and Tesco, have faced legal action over pay differences between shop workers and warehouse staff.
Labour-run Birmingham City Council has been forced to pay out £760m to settle equal pay claims.
And SNP-led Glasgow City Council is still involved in a long-running legal battle over pay, despite paying out a total of £500m to current and former workers.
Workers in female-dominated roles such as catering or cleaning staged strikes because they were getting up to £3 an hour less than those in male-dominated areas such as refuse collection.