Chinese and Pakistani experts for leveraging strong diplomatic ties with China to attract crucial investments in Pakistan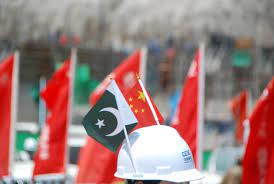 Islamabad: Chinese and Pakistani experts have emphasized the importance of leveraging strong diplomatic ties with China to attract crucial investments for expanding affordable and environmentally-friendly energy access in Pakistan.
They were speaking at a seminar titled 'High-Level Symposium on Renewable Energy Collaboration under CPEC: A Diplomatic Discussion.' The seminar was jointly organized by the Sustainable Development Policy Institute (SDPI) and the Pakistan-China Institute.
In his speech, Dr Abid Qaiyum Suleri, the Executive Director of SDPI, pointed out that the global climate crisis, exacerbated by the continued use of fossil fuels, affects countries worldwide, irrespective of their geographic location or economic conditions.
He highlighted that as nations strive to combat this crisis by transitioning to renewable energy sources, the energy price spikes resulting from the Russia-Ukraine conflict are causing domestic energy cost increases and dissatisfaction among the public in Pakistan.
Dr Suleri also drew attention to the recent discovery of 6.1 million units of electricity theft in Pakistan and suggested that the country should tap into China's expertise to implement practical solutions for promoting clean and green energy initiatives. Dr Hassan Daud Butt, a Research Fellow at SDPI, emphasized the significance of the Belt and Road Initiative (BRI) and its potential to generate significant economic activity, amounting to US $ one trillion. He noted that Pakistan, under the BRI, was considered a testing ground for expanding its energy portfolio, with the ambitious goal of achieving a 30% growth rate in the renewable energy sector by 2030.
Dr Butt urged the government to proactively present proposals to China to create a favorable policy environment for the promotion of renewable energy. He stressed the need for practical approaches, policy resilience, and transforming the China-Pakistan Economic Corridor (CPEC) into a catalyst for large-scale clean and green energy projects.
N A Zuberi, a Senior Advisor at China Three Georges South Asia Investment, Ltd, informed the audience about the substantial investments made by Chinese firms through the Community Investment Plan (CIP) in the Punjab and AJK regions, totaling US $ 655 million. Additionally, the company has successfully developed three wind power projects with a combined installed capacity of 49.50 MW, all with tariffs below 5%.
Zuberi highlighted challenges faced by Chinese investors in Pakistan, including payment delays from CPPAG for CSAIL renewable projects, issues related to circular debt, annual losses of US $ 250 million due to non-operational projects, delayed shipments, and substantial payments for damages.
Xiao Pang, a Senior Specialist at the BRI International Green Development Coalition, emphasized the need to leverage CPEC for accelerating the adoption of renewable energy and significantly reducing carbon emissions.
He stressed the importance of conducting pre-feasibility analyses to attract investors, initiating capacity-building programs, and forming a coalition of experts dedicated to advancing green initiatives.
Dr Liaquat Ali Shah, the Executive Director of the CPEC Centre of Excellence, underscored the necessity of building institutional capacity and aligning industry and energy policies with green industrial policies. He emphasized that the focus on renewable energy should extend beyond generation to include energy conservation and efficiency, noting that outdated facilities can lead to increased costs.
Taimur Adil, Founding Partner of Impetus Advisory, suggested exploring financial mechanisms such as private equity for green energy projects and tapping into the investment potential in the Gulf region.
He urged the enhancement of government department capacities, particularly through the use of metrics and dashboards to identify bottlenecks and streamline energy development efforts.
Dr. Khalid Waleed, another Research Fellow at SDPI, addressed the affordability crisis and advocated for energy transition solutions, including the establishment of a Joint Energy Transition Public Sector (JETPS) to mobilize finance. He also highlighted the potential for China to shift manufacturing to Pakistan, benefiting from Pakistan's labor-intensive workforce, thus creating a mutually beneficial trade relationship.