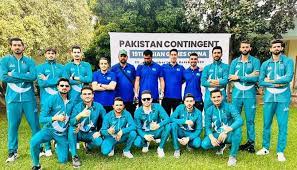 Islamabad: Pakistan's national volleyball team have left for Hangzhou, China, with high aspirations for an impressive performance in the Asian Games.
Led by Mubashar Raza, the Pakistan Volleyball squad started its journey from Islamabad. They will take part in the forthcoming Asian Games Volleyball tournament.
The Volleyball segment of the Asian Games is scheduled to kick off on the September 19. Pakistan's initial group matches are slated against Mongolia on the 19th and Chinese Taipei on the 20th. Should they secure a position among the top two teams in their group, they will advance to the round of 12, commencing on the 21st.
In preparation for this continental sporting pinnacle, Pakistani players underwent an extensive training camp held in Islamabad. The head coach of the Pakistan Volleyball team, Issanaye Ramires, expressed confidence in their readiness for the event, emphasizing the three months of dedicated training and valuable experience gained from the Asian Championship.
Mubashar Raza, the captain of the Pakistan Volleyball team, highlighted the team's diligent efforts during the training camp to enhance their skills and embrace modern styles of play. He believes that their performance at the Asian Games will reflect the dedication and preparation they put in at home.
Pakistan's last medal victory in the Asian Games dates back to 1962 when they secured a Bronze medal in Jakarta, finishing in third place. Subsequently, their best performance was a fifth-place finish in 1990.
In the previous edition of the Asian Games, they attained an eighth-place position, while their recent participation in the Asian Volleyball Championship saw them secure seventh place. Nevertheless, the players maintain their optimism that they will emerge as strong contenders in the Asian Games.