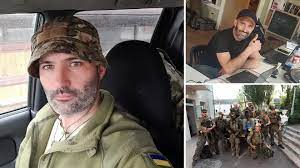 London: A body has been found in the search for a missing former paratrooper who was fighting in Ukraine, police have said.
Daniel Burke, of Wythenshawe, Manchester, was reported missing by his family on 16 August after he had travelled to the front line in 2022.
Greater Manchester Police (GMP) said the Ukrainian authorities had recovered his body.
His family said the 36-year-old was found in Zaporizhzhia, which lies about 44km (27 miles) from the front line.
Mother Diane Sniath told the BBC that "this is the moment I have been dreading".
GMP said it was working with Mr Burke's family and the Ukrainian authorities "to support the identification of Daniel and bring him back" home.
The BBC last spoke to Mr Burke on 6 August, when he expressed intentions to join a Ukrainian army unit to fight against Russian forces.
He previously served in the Parachute Regiment between 2007 and 2009.
In 2019 he spent eight months in prison accused of terror offences after going to Syria to fight with Kurdish militia against the Islamic State group. All the charges against him were dropped in 2020.
Other Britons have recently lost their lives in Ukraine, including Samuel Newey, who was killed fighting alongside Ukrainian forces in the eastern part of the country.