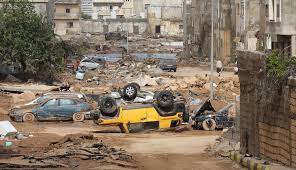 London: The UK has ramped up crucial life-saving support to flood-hit Libya, allocating increased funding and deploying an essential emergency medical team.
This additional support builds upon the initial package worth up to £1 million announced earlier this week (Wednesday 13th), which will be used to provide vital provisions including emergency shelter items, portable solar lanterns and water filters.
The UK is also deploying an emergency medical team led by health and sanitation experts from NGO UK-MED to conduct rapid medical assessments in disaster-affected areas. The Emergency Medical Team will coordinate with local authorities, international organisations and other EMT partners on the ground to understand the immediate and growing humanitarian health needs in Libya following the devastating storms.
The UK has increased its financial support to the response to both the floods in Libya and the earthquake in Morocco, allocating a package worth up to £10 million.
Minister for the Middle East and North Africa, Lord Ahmad said: "It is harrowing to see the loss of life and scenes of devastation in Libya following the floods.
The UK is committed to supporting the Libyan people during this extremely difficult time. We will increase UK funding to the crisis response and deliver crucial life-saving provisions, including shelter, water filters and medical assessments."
Earlier this week (13 September), the Minister for the Middle East and North Africa, Lord Ahmad of Wimbledon, spoke with the Chairman of Libya's Presidential Council, Mohamed al-Mnefi, to convey his condolences and the UK's commitment to supporting Libya in the aftermath of this tragedy. Lord Ahmad also spoke to Under-Secretary General for Humanitarian Affairs and Emergency Relief Coordinator at the UN, Martin Griffiths, to discuss the international response to the crises in Morocco and Libya.
The UN has announced $10 million in response to the flooding from its Central Emergency Response Fund (CERF), to which the UK is one of the largest donors. The UK has committed £52 million towards the UNCERF's vital work in 2023.
The UK is working with trusted partners on the ground to identify the most urgent basic needs, including on shelter, healthcare and sanitation and stands ready to provide further support.