Fair taxes could have raised over $28B for UK to combat climate change: Report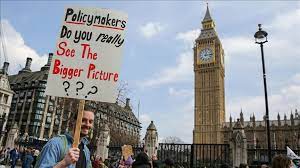 London: Stronger taxes on UK polluters could have brought more than $28 billion last year to address climate change, according to a report by a UK-based charity on Monday.
In its latest report, Oxfam presented ways to make the "biggest and richest polluters" pay that will avoid costs falling on UK households.
Identifying and proposing various mechanisms for Britain to raise finance for transformational climate solutions, the study claimed that up to £23 billion (some $28.5 billion) could have been raised in 2022 if fair taxes had been applied on "UK's biggest polluters."
Limiting climate change by staying within a 1.5C threshold is still possible, but it requires "a quantum leap in climate action," it noted, citing UN Secretary-General Antonio Guterres.
The report also warned that low and middle-income countries will need nearly $19 trillion between 2023 and 2030 to deal with climate change.
"Despite having the resources to lead on accelerating action across the climate pillars of mitigation, adaptation, and addressing loss and damage, the UK government is failing to deliver."
Criticizing the government for being "off track" to meet its trajectory of net zero emissions by 2050, Oxfam stated that public and private investments are also well below what is required to get the country onto a net zero target.
In addition, the study also touched on the government's recent move – which has sparked a controversy – to approve a number of fossil fuel projects, including its first new coal mine in over 30 years.
"The UK government currently does not give any dedicated finance to address loss and damage," it said, adding this is a "grave injustice" considering its large historical emissions.
To address climate change on time via needed finance, the research stated that high-emitting wealthy countries, polluting companies, and wealthy individuals should shoulder the greatest costs for climate action.
It suggested that a permanent tax on excessive UK fossil fuel profits, redirecting UK fossil fuel producer subsidies, frequent flyer levies, and taxing high-emitting luxury modes of transportation, such as private jets and superyachts, could be four new mechanisms in this regard.
Calling on Prime Minister Rishi Sunak to make an "explicit commitment" to implement new mechanisms to make polluters pay for climate action, Oxfam underlined that the government should also put an immediate end to new oil and gas licenses in the North Sea.
"Faster action to tackle the climate crisis, and to support those already impacted by it, can no longer be delayed," warned the report.
"This payment is already long overdue," it added.