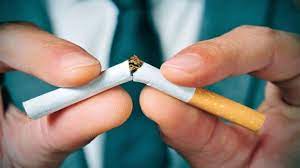 London: Rishi Sunak has announced plans for a UK smoking ban by raising the legal smoking age by one year, every year meaning a 14-year-old today will never legally be able to buy a cigarette.
The prime minister said in his speech at the Conservative Party conference in Manchester that the government will introduce a plan to phase out the sale of cigarettes for the next generation in what would be a major step forward for overall health in the UK.
The PM also pledged to crack down on the sale of disposable vapes to children, saying more must be done to restrict their availability to under-18s.
Mr Sunak said in his speech: "Four in five smokers have started by the time they're 20, later the vast majority try to quit but many fail because they're addicted and they wish they had never taken up the habit in the first place.
"If we could break that cycle – if we could stop the start – then we would be on our way to ending the biggest cause of preventable death and disease in our country.
"I propose that in future we raise the smoking age by one year every year. That means a 14-year-old today will never legally be sold a cigarette and that they and their generation can grow up smoke free."