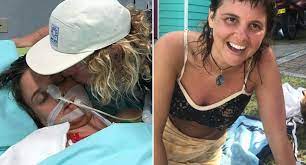 Rokme: Shelley Tinkler was on the 'holiday of a lifetime' with her friend in Italy. But just days later the South Coast NSW local was rushed to hospital and placed in an induced coma.
"She got off a cruise ship and was feeling a bit unwell when all of a sudden she was really short of breath," Tinkler's high school friend Shelley Navin told 7NEWS.com.au.
Tinkler was admitted to the ICU last weekend at a hospital in Cesena where doctors discovered she was battling severe bacterial pneumonia.
"She was really short of breath and distressed, so they put her in a medically induced coma and ran some tests," Navin said.
"And they ended up finding fluid on her lungs."
Now, after a few days, on antibiotics, Navin says Tinkler's condition is "critical but stable".
"Her most recent blood tests show she has begun to make some very small signs of improvement," she said.
Navin said all of their friends were so excited for Tinkler to embark on her dream holiday after having endured a few tough years.
"Shelley lost her mum when we were quite young … and she's been a single mum raising her own daughter," Navin said.
'Works in seconds!' Aussie's $1.35 cleaning hack goes viral
"So she's kind of had a few struggles in life."
However, prior to the trip, Tinkler moved to sunny Queensland and landed a new job.
Shelley Tinkler was on the 'holiday of a lifetime' with her friend in Italy when she suddenly fell ill.
"It seemed like her life was finally coming together," Navin said. "Everything was going great.
"Then she told us she was going on this holiday of a lifetime with a friend, and we were all excited for her."
But when the unthinkable happened, Navin said they were all left "devastated".
"The other girlfriends and I just felt a bit useless because we are so far away," she said.
Navin and her other friends decided to make a Go Fund Me page to help cover the costs of Tinkler's medical bills, as well as the familys' last-minute flights to Italy.
Upon hearing the news on the weekend, Tinkler's brother and father got on the first flight to Italy.
"They wanted to be there for her in case she woke up and needed someone there," Navin said.
"But those last-minute flights … they're not cheap and her medical bills won't be either, so we just all wanted to do something to help the family with all those costs."
Tinkler, who had a lot of involvement with her local community, was described by friends as "the life of any party".
"Shelley is just one of those people that really makes you laugh," Navin said.
"She is just a great person and is always that person that helps everyone else before she helps herself."
"She would actually be horrified to know that we've created a fundraising page … but we didn't know what else to do to help."
Meanwhile, Navin says the doctors are expecting to slowly wean Tinkler off her sedation medication, but her road to recovery still remains long.
"Shell has a long road ahead, and it is vital she has family with her at all times," Navin said.
With generous donations, Navin says they are hopeful the family can stay with her and bring her home when the time comes.