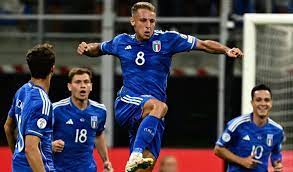 Rome: In a Euro 2024 Group C qualifier, Italy showcased their prowess as they cruised to a resounding 4-0 victory over Malta.
Domenico Berardi emerged as the hero of the match, scoring twice and leading the Italian side to a convincing win.
The reigning European champions, Italy, faced little resistance from a struggling Malta team that has yet to secure a win in the qualifying campaign for the upcoming tournament in Germany. Luciano Spalletti's team had to contend with several key players' absence due to injuries, including Ciro Immobile, Lorenzo Pellegrini, Mateo Retegui, and Federico Chiesa.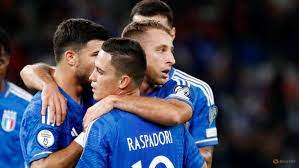 Additionally, Sandro Tonali and Nicolo Zaniolo left the squad earlier in the week due to their involvement in an investigation by Turin prosecutors.
Italy's victory places them in the second position, ahead on goal difference of Ukraine, who won 2-0 against North Macedonia. Both teams now have 10 points, but Italy holds a match in hand over all their group rivals, except for group leaders England, who boast 13 points.
The upcoming qualifier against England promises to be a significant matchup for Italy as they aim to further solidify their position in the group.
Italy's Giacomo Bonaventura made history by opening the scoring with a beautifully executed right-foot curler from just inside the penalty area, marking his first international goal at the age of 34 years and 53 days. He became the oldest Italian player to achieve this milestone more than a decade after his debut.
Berardi extended Italy's lead just before halftime with a left-foot curler and added his second goal in the 64th minute with a precise finish from a cut-back.
Davide Frattesi sealed the deal with a skillful low shot from the edge of the area in the closing moments of the match.
Italy's performance demonstrated their strength and determination in the quest for a spot in Euro 2024, keeping their aspirations alive.