HRTC poised to take spotlight as PM Kakar prepares for China visit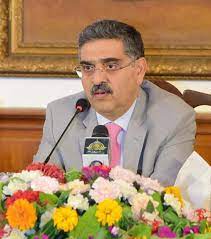 Gwadar Pro
Islamabad: In the lead-up to Prime Minister Anwaarul Haq Kakar's upcoming visit to China, Pakistan's Highway Research and Training Centre (HRTC) is poised to take the spotlight as a significant highlight of this visit.
The HRTC, a subsidiary of the National Highway Authority (NHA), plays a crucial role in conducting domestic research across various fields of highway engineering, encompassing aspects such as pavements, bridges, environmental engineering, tunneling, hydraulics, and geotechnical studies. Additionally, it serves as a platform for providing technical training to NHA engineers.
Within the framework of the China-Pakistan Economic Corridor (CPEC), there is an ambitious joint research program scheduled to run from 2023 to 2027 in collaboration with the Government of China.
This program aims to foster cooperation and innovation in multiple areas of highway engineering. A formal memorandum of joint research extension is expected to be solidified during the Prime Minister's upcoming visit to China next week, marking a significant step in mutual cooperation, particularly in road infrastructure development.
This extension project encompasses several key activities: the construction of the HRTC Research Institute on a 530-acre plot of land already acquired by the NHA for Pakistan Rs 520 million.
This construction is set to be carried out by a Chinese contractor or consultant, supported by a Chinese grant of US $ 52 million or 374 million RMB (equivalent to 15 billion PKR).
The institute will include infrastructure, a test track, as well as indoor and outdoor laboratory equipment. Upon completion and the necessary training, the facility will be handed over to the NHA for operation.
The program will also encompass the Long-term Pavement Performance (LTPP) study under controlled and uncontrolled conditions, in addition to various research initiatives related to reclaimed asphalt, bridges, and tunneling. It will offer training and degree courses in China, facilitate the development of engineering design manuals and standards tailored to Pakistan, and operate according to Chinese standard operating procedures.
To kick-start this initiative, a designated Chinese consultant is scheduled to arrive in Pakistan shortly after the Prime Minister's visit (October 17 to 18) concludes. Their primary task will be to undertake a comprehensive feasibility study to determine the exact grant amount required to support these collaborative efforts.
The expected outcome of this joint research program is a substantial transformation of Pakistan's highway infrastructure. It will equip the NHA with the latest technologies and expertise necessary to enhance the quality, safety, and durability of the country's road network. Furthermore, it will create fresh opportunities for the training and development of Pakistani engineers.
The Pakistan-China Highway Research and Training Centre represents a groundbreaking project that promises to revolutionize Pakistan's highway infrastructure, underscoring the robust friendship and cooperation between the two nations.
The Joint Research Program is set to play a pivotal role in enabling Pakistan to develop a state-of-the-art highway network capable of meeting the needs of its growing economy and population.