PM Kakar to hold bilateral meeting with President Xi Jinping during upcoming China visit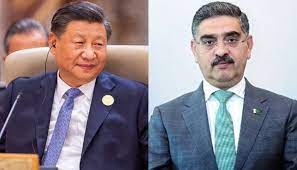 Islamabad: Caretaker Prime Minister Anwaarul Haq Kakar has announced that he will hold a bilateral meeting with Chinese President Xi Jinping during his upcoming visit to China.
The PM is scheduled to make a visit to China for his participation in the 'Third Belt and Road Forum (BRF) for International Cooperation,' set to take place in Beijing from October 17 to 18.
The PM's office posted on X platform that Prime Minister Kakar will be present at the opening ceremony of the BRF and will deliver an address at the high-level forum named 'Connectivity in an Open Global Economy.'
During this visit, he will also hold a bilateral meeting with the President of China, Xi Jinping. The event will witness the presence of senior Chinese officials, business leaders, investors, and several other world leaders, the post read.
The Third Belt and Road Forum for International Cooperation will be conducted in Beijing from October 17 to 18, focusing on the theme of 'High-quality Belt and Road Cooperation: Together for Common Development and Prosperity.'
The Belt and Road Initiative (BRI), initially introduced by Chinese President Xi Jinping in September 2013 during a visit to Kazakhstan, aims to revive the historical Silk Route on a much grander scale. This initiative seeks to establish robust connections between China and neighboring countries while extending its reach into Europe and Africa.
The China-Pakistan Economic Corridor (CPEC) is an integral part of the BRI. CPEC represents a significant infrastructure project and regional connectivity effort undertaken jointly by Pakistan and China, designed to create a major trade route connecting the Gwadar Port in southwest Pakistan to China's northwestern Xinjiang region.
Pakistani Foreign office spokesperson Mumtaz Zahra Baloch, had earlier announced PM Kakar's participation in this event comes by way of President Xi Jinping's invitation, and he will engage in discussions with the Chinese President and other senior leaders. Additionally, Prime Minister Kakar's itinerary includes meetings with Chinese entrepreneurs to explore opportunities for expanding trade and investment between Pakistan and China.
During his visit to the Xinjiang Autonomous Region, Prime Minister Kakar intends to meet local leaders and business figures with the objective of bolstering trade, investment, and fostering people-to-people relations.
The spokesperson emphasized that PM Kakar's engagements will spotlight the significant achievements and future priorities of the CPEC.