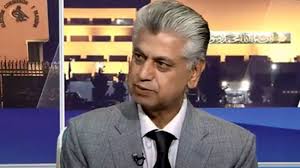 Islamabad: Pakistani Caretaker Federal Minister for Information, Murtaza Solangi, has highlighted the significance of the China Pakistan Economic Corridor (CPEC), characterizing it as a major milestone marked by successful projects in Pakistan, encompassing road infrastructure, the power sector, and industrial zones, with a total worth of US $ 62 billion.
During his speech at the CPEC Art Exhibition, a collaborative effort by Bahria University and China Media Group, he expressed his pleasure at witnessing the strengthening ties between Pakistan and China.
Solangi emphasized the importance of people, underscoring that they are at the core of every initiative the government undertakes. He acknowledged the profound impact of arts and culture on human lives, noting that this event was not limited to art pieces but also included interactive media.
He expressed hope that this interactive media would engage and educate the younger generation, raising awareness about the significance of the Pakistan-China friendship and its reflection through CPEC projects. Solangi stressed the present government's commitment to facilitating CPEC projects and ensuring policy implementation.
He mentioned that Caretaker Prime Minister Anwaarul Haq had departed for China to represent Pakistan in the Third Belt and Road Forum. As the 10-year celebrations of CPEC were ongoing, he teased that there would be positive developments regarding road infrastructure, green initiatives, technology, export processing zones, special economic zones, and Main Line 1 (ML-1).
Solangi added that the caretaker government was dedicated to providing relief to the people, and he highlighted the reduction in petroleum product prices, which brought happiness to many.
He emphasized that the government was determined to pass on the benefits of reduced petroleum product prices to the public and was collaborating with provincial governments and district administrations to lower transport fares.
The minister reiterated the caretaker government's commitment to leave the country in an improved state than when it was entrusted to their care.