Brussels: European Union (EU) chief Ursula von der Leyen said on Wednesday there is "no excuse for hitting a hospital full of civilians" in Gaza.
The European Commission president told EU lawmakers the "facts need to be established" on the overnight strike on the Gaza hospital. Von der Leyen said "all those responsible must be held accountable".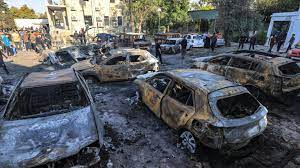 European Council President Charles Michel posted on social media that there was "no conceivable reason to strike a facility with innocent civilians and medical staff" and said such an attack "is not in line with international law". He too called for accountability.